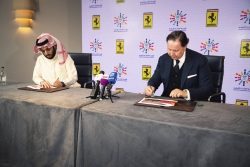 Riyadh, Saudi Arabia, February 06, 2019 --(
PR.com
)-- In-line with his recent announcement regarding expanding the entertainment sector in the Kingdom of Saudi Arabia, His Excellency Turki bin Abdul Mohsen Al Sheikh, Chairman of the General Entertainment Authority (GEA), signed a number of MoUs in the UK capital London between GEA and a group of entities.
The agreements aim to enrich and diversify entertainment offering in the Kingdom and attract contributions from world-class professionals and operators. The MoUs encompass a rich array of entertainment categories including live performances, touring theme parks, outdoor cinemas, and more.
Among the agreements signed is an MoU with "Flying Music" to organize a number of global theatrical shows such as "Thriller." MoUs were also signed with each of the British magician "Dynamo," "The Works" to organize the world-famous "The Illusionist" show, "Luna Cinema" to organize several open-air cinema shows, and "1001 Inventions" to present touring educational exhibitions.
Along the same lines, more agreements were signed with "Design Lab Experience" to organize Ramadan tents featuring quality entertainment options in various locations in the Kingdom, and with "TeamPartner Three" specialized in touring theatres to operate two state-of-the-art theatres and train Saudi teams. MoUs were also signed with each of "Durrat Arriyadh" and "Durrat Al Arus" to utilize their infrastructure and facilities for entertainment events.
Moreover, in regards to television shows, H.E. Turki Al Sheikh signed an MoU with "Police Academy" to present interactive shows for audiences in a dedicated area, and also with "Ultimate Soldier Challenge" to produce the "Soldiers Challenge" show which will feature the participation of Saudi armed forces members.
On the festivals front, H.E. Al Sheikh signed an MoU with "Ferrari Festival" to present an interactive public parade showcasing Italian Ferrari vehicles, and an MoU with "Mellors Group" specialized in operating touring theme parks.
Furthermore, H.E. signed MoUs with "Insomnia" to organize one of the largest video game exhibitions in the world, "DOTA2" to organize a festival featuring the famous game, "Merlin Entertainment" which owns the famous "Madame Tussauds" wax museums, and "IMG" to organize "The Color Run" race in the Kingdom.