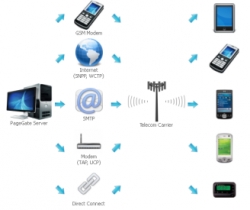 Hanover, MA, February 08, 2019 --(
PR.com
)-- NotePage is pleased to announce the availability of a new Filter Pack option for PageGate. The PageGate Filter Pack increases the flexibility and power of PageGate's text messaging capabilities. With the PageGate Filter Pack, customers can search inbound data for specific words, phrases or characters, and using literal or RegEx searches, SMS messages can automatically be sent when the defined criteria is met.
Additionally, the PageGate Filter Pack allows for the contents of messages to be substantially changed. For example if an alarm that PageGate is monitoring generates a numeric code, PageGate can replace the numeric code with a more meaningful message which can then be distributed to specific groups or individuals via a text message.
The PageGate Filter Pack can also extract text message data from other textual formats like HTML, XML or JSON. PageGate's Filter Pack uses a powerful RegEx (regular expression) engine, allowing data extraction from almost any data format.This information can then be sent out via SMS or text message.
The PageGate Filter Pack can also be used in conjunction with website polling. If certain defined conditions or keywords exist on a website, a text or SMS message can be triggered. For example PageGate can be configured to poll a website like the National Weather Service for weather in a specified area. The weather can periodically be sent to recipients in the area as a text message.
The new PageGate Filter Pack allows for integrated communications and brings text messaging to a whole new level. PageGate's Filter Pack is incredibly flexible and powerful, using Regex or literal searches, customers can build filters that meet their specific needs. The PageGate Filter Pack supports all types of logic operations. The Filter Pack can be used with virtually any of the existing PagGate interfaces to increase the power of PageGate.
Pricing and Availability:
PageGate version 8, its interfaces, and add-ons are available immediately. The cost of the PageGate is based upon the number of recipients that messages will be sent to. Prices for PageGate start at $200.00. Each of the interface modules and add-ons may be purchased separately.
PageGate requires Windows XP or newer (supports up to Server 2019), 1 Gb or better processor, 1 Gigabyte of available RAM and 100 Mb of free hard drive space, and an analog modem for dialup connections, serial cable for direct connections, mobile phone or wireless modem that supports the GSM AT command set for wireless connections, or a dedicated (always on) internet connection.
For more information, visit the NotePage web site at
https:www.notepage.net/pagegate.htm
. You can download a trial version of PageGate from the same URL. For more information contact, NotePage, Inc. at PO Box 296, Hanover, MA 02339. Phone: 781-829-0500. Fax: 781-829-0419. E-mail: sales@notepage.net. Internet: https://www.notepage.net.
About NotePage:
NotePage, Inc. is a Hanover, Massachusetts company specializing in wireless messaging and communications software. In addition to PageGate they market(1) NotePager Pro, a desktop text messaging application, (2) Android SMS Gateway application, for simulating cellular hardware.
Evaluation Copy Available on Request.