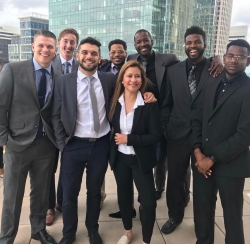 Morgantown, WV, February 08, 2019 --(
PR.com
)-- New Marketing Firm Launches in Morgantown, West Virginia Creating More Job Opportunities for the Community
A Michigan native, Dante Murchison opens up his second marketing firm in Morgantown called Premier Management Group Inc, creating more job opportunities in West Virginia and surrounding areas. This location was opened to support the growth of Murchison' Firms. Concurrently, the company announced that they have four available positions which they are looking for a local talent.
Dante Murchison, Director of Operations and the founder of Premier Management Group Inc. stated, "Being a young entrepreneur myself, I wanted to make a difference and help our generation to have a very strong mentality that will help them to be very successful in life. I want to focus and give plenty of opportunities not just to younger generation but all ages. I believe that giving back to the community will also make me a better mentor and a better businessman. My success in my career was nothing but hard work and determination. Growing up with seven siblings, one of many of my goals is to retire my parents and give them the life that they deserve. I want to leave a great footprint and legacy behind me and know that not only I was a great mentor but also I was a small reason why someone like me, was also able to reach their own personal goals."
Mariel Cody, Director of Human Resources for Premier Management Group speaks about her experience working with Dante thus far, "Being a part of this amazing organization which you get one on one mentor ship with the C.E.O. himself is just one of the many reasons why I chose to work here with Dante. The opportunities are endless and I can't wait to see what the future holds for Premier Management Group Inc."
Premier Management Group Inc is one of the fastest growing marketing firm in the Nation and is projected to two more expansions by the end of 2019. They rank number one for customer and client acquisitions, and Best in class for delivering their clients products and services.