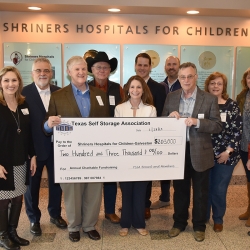 Round Rock, TX, February 13, 2019 --(
PR.com
)-- For 18 years, Texas Self Storage Association*, a state-wide organization headquartered in Round Rock, TX, has spearheaded fundraising efforts for Shriners Hospitals for Children-Galveston at its annual Big Ideas in Storage conference and trade show via live and silent auctions, a raffle, charity poker tournament and direct donations. One-hundred percent of the proceeds go directly to Shriners in Galveston. On January 28, 2019, TSSA Executive Director Ginny Sutton and fundraising co-chairs David and Doug Hunt were joined by other association members to present the hospital with a check totaling $203,000. This sum, which was raised October 7-9, 2018 at its Dallas conference, brings TSSA's total donations to date to $1.4 million.
Why Shriners Hospitals for Children-Galveston? Since the 1960s, Shriners has pioneered some of the most significant advancements in burn care. The hospital provides highly specialized acute, reconstructive and rehabilitative care for children with burns and other soft tissue conditions, regardless of a family's ability to pay. Its efforts have doubled the survival rate for children with burns over more than 50 percent of their body surface. Today, patients with burns over 90 percent of their bodies can survive, and go on to lead full, productive lives.
After visiting the hospital for the check presentation, TSSA Board President Chris Martin said, "These kids have had a seemingly insurmountable obstacle in their lives, and I can't think of a more noble cause than to help contribute to their road to recovery."
"Touring this hospital is like no other experience. You go in thinking that you'll see children who have been terribly injured and wonder if you'll be too emotional," says TSSA Executive Director Ginny Sutton. "The reality is that there are so many advancements being made with technology and new therapies, and everyone is so positive, including the children and their families, that it immediately grounds you. This is a place of incredible healing and research. What the hospital can do with the money we raise just comes to life before your eyes. It drives home what a privilege this partnership is for TSSA."
2019 fundraising efforts are underway, which will culminate October 14-16 at the TSSA Big Ideas in Storage conference in The Woodlands, TX.
Photo Caption: TSSA donors, board members and staff present the Shriners Hospitals for Children—Galveston with donations and fundraising proceeds for 2018 totaling $203,000. Pictured: Ginny Sutton, TSSA executive director; Dave Morgan, SBS Construction; Doug Hunt, Access Self Storage, Fundraising Co-chair; Hank Daughtry, Trusted Self Storage Professionals; April Young, Ultimate Properties; Chris Martin, Ideal Self Storage and current TSSA president; Matt Janes, Rosewood Property Company, David Hunt, OMC, co-chair and wife, Trena; Jeanne Dube, Solid Ground Storage; Kaye Daughtry.
*Texas Self Storage Association was established in 1986 and is a non-profit trade association dedicated to enhancing the quality of the self-storage industry in Texas. The Association provides opportunities for members to increase their knowledge of the industry through education, research, discussion and exchange of information.
Contact:
Tracie Seed, TSSA Director of Marketing & Communications
marketing@txssa.org
512) 374-9089
www.txssa.org