Destiny Carries and LFG Offers Best Destiny Carries on the Web to Help Players Get Past the Sticking Point
The website features a community of Destiny experts offering carries and assistance. Destiny Carries LFG is formed by a group of players who have extensive knowledge in the online game called Destiny. With the gaming industry focusing its attention on multiplayer gameplay. Destiny Carries LFG experts have honed their skills to provide you with the opportunity to experience Destiny 2's multiplayer feature at its fullest.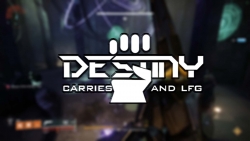 Tampa, FL, February 22, 2019 --(
PR.com
)-- Destiny has been one of the most top selling video games since the multiplayer first person shooter video game launched in 2014. With its reach spanning players on PS4, Xbox, and PC, players around the world enjoy the adventures offered by Destiny.
One of the biggest challenges, however, can be to get through some of the most difficult obstacles. Another challenge is finding teams of players for some of the game's missions.
Destiny Carries And LFG launched to provide a distinct solution to those challenges. While there are other websites out there offering carries, Destiny Carries And LFG has become perhaps the
Best Destiny Carries
site out there today.
As opposed to strictly offering a service, Destiny Carries And LFG has worked to build a network of global Destiny players. Among these are experts who've gained major traction in the game and offer their assistance to newer players.
Destiny Carries And LFG helps players become fully immersed in Destiny by connecting them with players around the world who help them navigate the game's challenges and objectives.
With carries, Destiny players can seamlessly conquer raids, weekly challenges in the Dreaming City, Shattered Throne, Leviathan Raid Royal Pools, Pleasure Gardens, Raid Lairs Eater of the Worlds, Spire of the Stars, The Last Wish, Scourge of the Past, Queenswalk, Escalation protocol, Heroic Challenges, and much, much more to boost players in the game.
When Destiny players need to find other players and groups to complete missions, they can visit Destiny Carries And LFG. Even first time raiders can succeed with carries and assistance from the experts at the site. Destiny Carries and LFG features carry experts who are highly experienced, professional, reliable, and trustworthy. These experts are proud to help players accomplish objectives and strategies. In addition, Destiny Carries And LFG offers assistance in PvE events, PvP events, and special events.
Carries, boosts, and more can be purchased directly from Destiny Carries And LFG starting at just $10.99. This makes it easy for players to get the carries and boost they need as quickly as possible. These boosts include LFG/LFM teams to prevail against opponents and through missions and skirmishes. "You can join a team of your choosing or look for players who fit your team's description," said the team at Destiny Carries And LFG.
Still, Destiny Carries And LFG has cultivated an impressive community of dedicated Destiny players from all corners of the world who are deeply committed to helping other players succeed in the game. Destiny players can visit the Destiny Carries And LFG website to join today.
About Destiny Carries And LFG
Destiny Carries And LFG offers a community of experts who offer carries and raid assistance for Destiny on all gaming consoles, including Xbox, PS4, and PC.
Contact
Destiny Carries LFG
David Pieps
321-529-1553
https://destinycarrieslfg.com

Contact