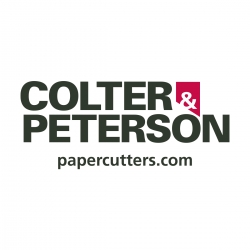 West Caldwell, NJ, March 07, 2019 --(
PR.com
)-- While an auction website is a great place to buy everything from clothing to power tools, Colter & Peterson's President and CEO assures buyers that it is no place to buy a heavy duty paper cutting system. That's why Bruce Peterson, creator of PaperCutters.com, launched CutterMart, a safe place to buy certified used or reconditioned paper cutters and paper handling equipment at a discount.
CutterMart features the largest selection of used paper cutting machines
and paper handling equipment for sale in the world. Every machine must pass rigid tests and standards before earning their Certified Used or Reconditioned stamp of approval.
"I've heard of people buying industrial paper cutters over the Internet from unknown sellers. To that I say, buyer beware," says Peterson. "Some may work and some may not, and there is the added cost when it breaks down. That's why we have CutterMart. Our program, which is accessed through our website, offers customers across-the-board assurance whether they are buying a new product, one that we have rebuilt or one that is Certified Used.
"The machines we rebuild or sell as Certified Used have all met specific performance criteria. Before we offer them, they have been cleaned, run, and tested to assure they are in good condition. The knives have been sharpened and if we found any part that was broken, we've replaced it and made sure the machine is in safe working order. And we support our work by offering customers a limited warranty, something you won't find elsewhere on the Internet."
Colter & Peterson has provided exceptional customer care for nearly a century.
"Since my grandfather opened the business in 1932, we have sold and installed over 10,000 machines ranging in size from 19-inches to 149-inches wide," says Peterson. "We carry many different models including Harris-Seybold, Dexter-Lawson, Challenge, Polar and Wohlenberg. A well-built paper cutter, if properly maintained, can be functional for decades."
Colter & Peterson's industry-leading PRISM® and SABER® paper cutter lines are extremely popular and feature Microcut® electronics packages that bring new life to old paper cutters.
CutterMart offers hundreds of machines in stock.
"With CutterMart we usually have over 100 machines in stock. Whether it is a rebuilt machine or one that is Certified Used, there is something available at every price level," says Peterson. "Some machines can ship within one to two weeks. That's also true for other equipment, such as our paper joggers, lifts and automatic unloaders, as well as three-knife trimmers. If a customer is looking for repair service, knife grinding services or help moving or transporting their machines, we can assist with that too."
About Colter & Peterson
Colter & Peterson is North America's largest independent distributor of paper cutters and paper handling equipment. Founded in 1932, C&P employs approximately 40 people working coast-to-coast from four locations in New Jersey, Iowa and California. C&P is the manufacturer of the Microcut line of retrofit back gauge controllers and the worldwide distributor of PRISM and SABER paper cutters, as well as C&P and Schneider Engineering Peripheral equipment. The company also is the North American distributor of the CHM precision sheeter and Accutrim three knife trimmers. In addition, C&P provides service and support for the Harris-Seybold, Dexter-Lawson, Challenge, Polar and Wohlenberg paper cutter lines. For more information, call (800) 932-0780 or visit www.papercutters.com.