Quantum Workplace Introduces Employee Vitals for Strategic Talent Reviews
Quantum Workplace releases Vitals, a new talent pipeline software that helps HR leaders and executives make strategic talent decisions based on collaborative, real-time data.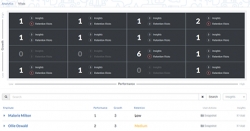 Omaha, NE, March 13, 2019 --(
PR.com
)-- Quantum Workplace, the leading performance and employee engagement platform, introduces
Employee Vitals
, a breakthrough feature to help HR leaders and executives more strategically manage their talent pipelines.
People are the single most important factor to business success, but recent trends make it harder and harder to keep talent pipelines full of high-performing employees. Due to an influx in available jobs and unemployment below 4%, we've seen the highest voluntary turnover rate in the United States in 10 years. Now, more than ever, it's crucial to optimize your talent review process to keep ahead of the competition.
Enter Vitals, a talent review system that routinely sources information about employee performance impact, growth trajectory, and retention risk. Vitals provides an up-to-date snapshot of each employee, essential for making strategic and proactive talent decisions.
"The revolution in performance for the last decade was about automating traditional evaluations. That hasn't created the change that talent managers wanted. Our approach is about simplifying performance down to the absolute essentials, the 'vitals' if you will." - Greg Harris, CEO, Quantum Workplace.
How It Works
Vitals is refreshingly simple. Managers and supervisors answer three lightweight questions about their direct reports every 6-12 weeks. These questions capture manager perceptions for three focus areas:
Performance impact
Growth trajectory
Retention risk
Upline managers and admins are also encouraged to provide insights and comments. The frequent updates and numerous contributing voices create a collaborative, accurate narrative that helps leaders make informed and strategic talent decisions that lead to business success.
Vitals analytics provides a dashboard for leaders to easily answer:
Who's making the most impact?
Who's growing in their role?
Who's at risk of leaving?
The collaborative, real-time look gives leaders the data they need to be confident and proactive in their talent decisions.
To learn more about Quantum Workplace's Vitals, visit https://www.quantumworkplace.com/product/talent-pipeline-employee-vitals.
About Quantum Workplace:
Quantum Workplace provides an all-in-one employee engagement software that makes managers the central drivers of workplace culture. Serving more than 8,700 organizations, Quantum Workplace's technology gives team leaders direct access to employee feedback and personalized real-time insights so they can make work better every day. The software includes surveys, goals, recognition, feedback, vitals, and 1-on-1s, providing a powerful solution for team engagement and continuous improvement. Quantum Workplace customer service is second to none with a customer NPS score of 79.28 and a G2 Crowd rating of 4.5. As the survey partner for America's Best Places to Work, Quantum Workplace has helped honor and create top workplaces for more than 15 years. For more information, please visit www.quantumworkplace.com.
Contact
Quantum Workplace
Luke Stritt
1.888.415.8302
www.quantumworkplace.com

Contact