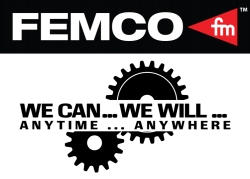 Pittsburgh, PA, March 18, 2019 --(
PR.com
)-- FEMCO HOLDINGS, LLC, a leading national machine repair and manufacturing company, announced today that it has acquired ELMCO Engineering, Inc., an Indianapolis, Indiana based company. ELMCO Engineering is a leading manufacturer and repair facility for powdered metal compacting presses.
ELMCO Engineering has served the worldwide powdered metal market for 28 years as a leading manufacturer of new and rebuilt powdered metal compacting presses, including an extensive parts inventory. In addition, the company repairs and services all makes of presses. With an extensive customer base, located throughout the Midwest region, ELMCO Engineering expands FEMCO's footprint to seven full service repair and manufacturing facilities located throughout the United States.
Commenting on the acquisition, FEMCO CEO, Dan Rondeau stated: "ELMCO Engineering broadens and strengthens our position as a leading national provider of machine repair services and manufacturing capabilities to the various industries we support. We believe ELMCO will be a valuable addition to our expanding suite of services and products; further enhancing the value FEMCO provides to our customers."
Larry Emery, Founder of ELMCO Engineering said: "Our team is thrilled to be part of such a strong organization. FEMCO compliments our business model and its culture very much aligns with our values and approach to exceeding customer expectations. We are very excited about our partnership with FEMCO."
FEMCO is a national company providing technical expertise and solutions to the aggregate & mining, construction, industrial manufacturing, oil & gas, and recycling industries. FEMCO delivers repair, manufacturing, and field services, including OEM and aftermarket parts and 24-hours-a-day, 7-days-a-week emergency response. Visit us at: www.femcomachine.com
For more information contact:
For media:
Doug Marshall of FEMCO at (480) 646-6534 or e-mail at dmarshall@femcomachine.com.