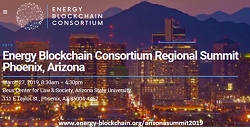 Phoenix, AZ, March 26, 2019 --(
PR.com
)-- Energy Blockchain Consortium (EBC) and Blockchain 48™ (BC48) to host a Regional Summit in Phoenix Arizona.
The Energy Blockchain Consortium in partnership with Blockchain 48 is pleased to host an educational summit for the state of Arizona about the use of Blockchain in the Energy industry. The summit will cover an overview of the use of Blockchain and its application in Utilities, with a deep dive on certain use cases pertaining to Arizona. The educational summit will provide some insights on how EBC and BC48 can aid the Arizona utilities and the state of AZ in Implementing blockchain in the energy field.
"Blockchain is an important new technology that could change the way energy companies and customers engage," said Bob Feghali, Chief Membership and Corporate Development officer at EBC, an Arizona resident. "But as a promising yet young technology, education, awareness, collaboration, and standardization will be critical to help legacy energy companies, utilities, governments, and startups alike understand and leverage its potential, which is why we're pleased to host this event and to launch an Arizona Working Group during the summit."
"Arizona's Governor, Attorney General, and Legislature have already been leading the country on blockchain policy, and I think Arizona's energy industry should do the same," said Commissioner Andy Tobin. "Whether the use cases for blockchain in Arizona will be transactive energy, RECs trading, DER management, or other applications is yet to be determined," says Daniel Schwiebert Deputy Policy Advisor to Commissioner Andy Tobin.
"Blockchain is maturing and getting the attention of the Energy Sector! What better place than Arizona to Learn, Explore, Engage, and Talk with businesses, regulators, and utilities and about the Sustainability, Demystifying, Value Proposition, and Collaboration using Blockchain in this sector," says Jon Zifcak, Managing Partner at Blockchain 48.
"In the energy sector, blockchain is opening the door to new, novel ways to facilitate transactions, with interoperability standards as the backbone," said Burrell Kilmer, Managing Director at Navigant. "Energy Blockchain Consortium's summit is an opportunity to explore this concept and discuss the possibilities it holds across Arizona."
About Energy Blockchain Consortium
Energy Blockchain Consortium is a non-profit consortium of energy and blockchain organizations and professionals who are committed to leveraging blockchain technology to solve the most compelling problems in the energy industry. The Consortium is developing an open energy blockchain framework (named Catena™) with use cases, interoperability standards and reference architecture.
For more, visit www.energy-blockchain.org
About Navigant
Navigant is a specialized, global professional services firm. Our teams apply experience, foresight, and industry expertise to pinpoint emerging opportunities to help build, manage, and protect the business value of the clients we serve.
For more, visit http://www.navigant.com
About Blockchain 48
Blockchain 48™ mission is to empower our Blockchain community, we achieve this by our core pillars to EDUCATE, CONNECT, and INNOVATE with our community to make meaningful and long-lasting contribution.
For more, visit http://www.blochchain48.com
Media Contacts
EBC: Bob Feghali, bob@energy-blockchain.org, (203) 554-9951
BC48: Jon Zifcak, jz@blockchain48.com, (480) 234-7424
Navigant: Lindsay Funicello-Paul, lindsay.funicello.paul@navigant.com, (781) 270-8456