Dirigo Custom Boatworks Builds Canoe for Injured Veterans
A new Maine company has built a specialized canoe for mobility challenged veterans in the tradition of Down East custom boat building. This unique canoe will greatly enable Maine's outdoor therapy veteran non profits to increase access to Maine's healing woods and waters.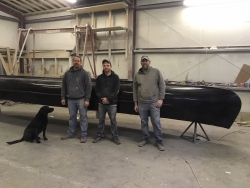 Steuben, ME, March 27, 2019 --(
PR.com
)-- Dirigo Custom Boat Works has built the Big Jack 24 foot Grand Laker style canoe for the purpose of safely transporting injured veterans on Maine's waters as they participate in outdoor adaptive fly fishing programs.
Registered Maine Guide Jack Mosher designed the canoe after he concluded that modern fishing boats are unsuitable for the mobility challenged veterans his nonprofit company brings fly fishing. Mosher explained, "Our re-calibrated warriors have special needs when it comes to adaptive outdoor recreation, and necessity is the mother of invention. We needed a specialized fly fishing canoe for our veterans to complete their recoveries in the Maine outdoors. If you need a custom boat built in Maine, you go Down East!"
Mosher found a new company in Steuben, Maine that had recently completed several canoes in the Grande Laker style. "I really liked the quality, attention to detail and innovation of their work, so I contacted them and explained what we needed," said Mosher. After a short phone conversation with owner Nate Faulkingham, Mosher traveled to their shop to meet in person with only a hand drawn sketch to show for architectural plans. "Nate and Jon looked at my drawings and said, Okay, we can do that!"
"It was very clear to me that they understood the importance of this canoe to our veterans' community. We have seen a welcome surge of outdoor recreation in Maine with great non-profits bringing our injured veterans here from all over the country to recover. Mosher's company (Gold Star Outfitters, Inc) provides pro bono guide and outfitting services for veteran support non-profits such as the Travis Mills Foundation Veterans Retreat, House in the Woods and Project Healing Waters Fly Fishing.
"This canoe will truly enable our guides to bring veterans and their families into the healing sanctuaries of Maine's abundant lakes and rivers. It is clear to me that our state's rich history of Down East custom boat building is alive and well at Dirigo Custom Boatworks and I am so thankful for the crew's work in building Big Jack with such care and professionalism," Mosher concluded.
The Big Jack dedication ceremony and christening is scheduled for 12:00 PM on March 30, 2019 at the 2019 Maine Sportsman Show, Augusta Civic Center. All veterans and their families are invited to attend with special emphasis on Vietnam Veterans as they celebrate their 50th service anniversary year of 1969.
Contact
Gold Star Outfitters, Inc
Jack Mosher
207-660-5922
https://www.goldstaroutfitters.or
Nate Falkingham, Owner, Dirigo Custom Boatworks 207 598 7060

Contact