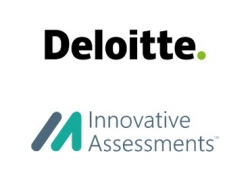 Paris, France, April 01, 2019 --(
PR.com
)-- Brightman Almagor Zohar & Co. ("Deloitte"), a member firm of Deloitte Touche Tohmatsu, Ltd., and Innovative Assessments International, Ltd. ("IA") have entered into an alliance that will allow banks to reliably approve more loans among traditionally underserved consumers.
France will be the first country where IA's Worthy Credit(TM) psychometric-based credit scoring solution will be offered to the banking industry as part of this alliance between Deloitte and IA.
According to Hervé Phaure, Head of Credit Risk at Deloitte Risk Services, "We see great potential for Worthy Credit in Europe and Africa, as an effective and innovative technology for serving customers who might otherwise have limited access to affordable credit, and more widely to bring a new type of valuable information to critical credit management processes, such as NPL management or restructuring triggers."
Dr. Saul Fine, CEO of Innovative Assessments, adds, "We are truly thrilled to be working closely with Deloitte. Worthy Credit can indeed make a meaningful contribution to facilitating financial inclusion, and Deloitte is perfectly positioned to help make that a reality."
About Deloitte
Deloitte refers to one or more of Deloitte Touche Tohmatsu Limited, a UK private company limited by guarantee, and its network of member firms, each of which is a legally separate and independent entity. Please see www.deloitte.com/about for a detailed description of the legal structure of Deloitte Touche Tohmatsu Limited and its member firms. In France, Deloitte SAS is the member firm of Deloitte Touche Tohmatsu Limited, and professional services are provided by its subsidiaries and affiliates.
About Innovative Assessments
Innovative Assessments (IA) is an Israeli Fintech startup that uses psychometrics to assess creditworthiness based on a borrower's personal character. IA's patent-pending technology measures key traits that are essential for good borrowers' behaviors, and augments traditional credit scores, allowing for increased loan approvals among the underbanked. IA is active in 15 countries, and has tested over half a million borrowers in less than two years. www.iassessments.com