Find, Craft, and Tell Powerful Stories Via New Book by Minnesota Author
Minnesota author Laura S. Packer releases her first book. "From Audience to Zeal: The ABCs of Finding, Crafting, and Telling a Great Story," is an in-depth resource for public speakers, business owners, and storytellers in a variety of settings. For more information or to order, please visit the publisher's website at smalltoothdog.com.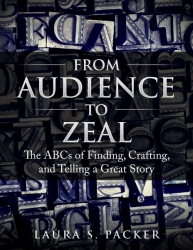 Wayzata, MN, April 01, 2019 --(
PR.com
)-- Laura S. Packer of Wayzata has had her first nonfiction book published by The Small-Tooth-Dog Publishing Group of Arizona. Her book, "From Audience to Zeal: The ABCs of Finding, Crafting, and Telling a Great Story" covers the ethics, crafting, and techniques of using oral storytelling for public presentations. The paperback book is 194 content-packed pages of resources for public speakers of all types. It is intended for adult audiences. The book is available directly from the author, most online bookstores, or via ordering at your local bookstore. See the website at smalltoothdog.com for more information.
Laura says, "'From Audience to Zeal' is a dream project. I'm thrilled to share some of what I've learned over the last 25 years about storytelling, audiences, authenticity, and even a little bit about living a fulfilling life." On the experience of having a published book, she says, "Working with Sean and the entire team at
The Small-Tooth-Dog Publishing Group has been terrific. Their vision complemented mine and together we've produced something I'm really passionate about."
Sean Buvala, the publisher, says, "The book is a deep dive into the many facets of public speaking with story in such settings as business, nonprofit, education, and entertainment. Laura distills more than 30 years' experience as storyteller and coach to create a dense, thorough reference book that has the feel of talking with a close friend."
Laura may be reached at (781) 526-7255.
The Small-Tooth-Dog Publishing Group booklist contains a range of books in the areas of performing arts and creativity for adult audiences. As well, they have several books for children and families. They're a member of the nationwide Independent Book Publishers Association.
Contact
Small-Tooth-Dog Publishing Group
Sean Buvala
623.298.4548
https://smalltoothdog.com
Laura S. Packer (781) 526-7255

Contact