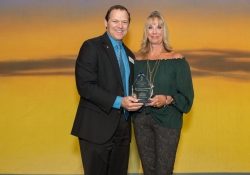 Carlsbad, CA, April 17, 2019 --(
PR.com
)-- Thursday, April 4th, global dance fitness pioneer Judi Sheppard Missett was presented with the Carlsbad Chamber of Commerce Lifetime CBAD Award by President & CEO of the Carlsbad Chamber of Commerce, Bret Schanzenbach during the
Carlsbad Chamber of Commerce Business Awards
(CBAD Awards) ceremony. Hosted at the Westin Carlsbad Resort & Spa, the Lifetime CBAD Award honors Sheppard Missett's 48-year contribution to Carlsbad, wherein she has not only introduced customers to a healthier, happier way of life through fitness, but her company has also created jobs and commerce in the city.
KUSI News Anchor Lauren Phinney acted as master of ceremonies at the event that also recognized other local business owners for their service to the community with awards such as "The Best Place to Work," "The Risktaker," and, notably, "Women Championing Women." The ceremony also marked the installation of the 2019 Board of Directors led by City of Carlsbad Mayor Matt Hall.
"This is truly such an honor – and so unexpected. No, really, this was a total surprise!" said Sheppard Missett, who was in attendance to act as keynote speaker. She went on to say, "An award is never really about me. I'm fortunate to have a team of incredibly smart, dedicated people around me who bring bright ideas and a wealth of experience to almost any situation."
While her first classes were taught in Chicago in 1969, Sheppard Missett and the Jazzercise family have called Carlsbad home for decades since the first corporate offices were opened in Carlsbad Village in 1977. In 2019, the international company that boasts more than 8,000 instructors and 3,000 locations worldwide celebrates its 50th year in business – an industry first.
Asked about the connection between Carlsbad and the Jazzercise family, Sheppard Missett admitted, "We may be a global company, but this will always be home."