Volunteer at HCA Healthcare/HealthONE's Swedish Medical Center Named National Frist Humanitarian Awards Finalist
Community Volunteer Recognized with Highest Honor from HCA Healthcare.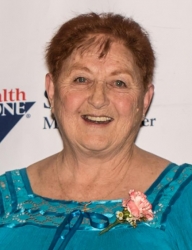 Englewood, CO, April 25, 2019 --(
PR.com
)-- HCA Healthcare/HealthONE's Swedish Medical Center is proud to announce esteemed volunteer Edith Worth as a 2018 HCA Healthcare Frist Humanitarian Award national finalist. HCA Healthcare is the parent company of Swedish Medical Center.
Edith "Edee" Worth became a volunteer at Swedish Medical Center in June of 1986 and has since logged over 23,000 hours as a volunteer chaplain in the pastoral care department. Edee provides support to the patients and staff at Swedish Medical Center during traumatic events, fetal demises and other medical activations. In addition to her volunteer services as chaplain, Edee volunteers with Love, Inc. an organization steeped in providing faith and support in the community, she is a Stephen's minister with her church, and a substitute pre-school teacher at St. Luke's United Methodist Church. Edee is also a volunteer with her church including the choir and bell choir.
"It is my honor to recognize Edee for this achievement," said Richard Hammett, President and CEO of Swedish Medical Center. "Edee has the heart of a champion. She doesn't do this work to seek attention or accolades. She is truly deserving of such an honor." As a finalist for the prestigious HCA Healthcare Frist Humanitarian Award, Edith will receive a $1,000 contribution to the charity of her choice and a $1,000 cash award as well as recognition during the national awards ceremony on Friday, June 21.
The Frist Humanitarian Award was created in 1971 to honor outstanding individuals associated with HCA Healthcare for their humanitarian and volunteer activities. Nominees are those who demonstrate remarkable concern for the welfare and happiness of patients and have performed extraordinary acts of kindness, thereby contributing to the improvement of patient relations, not necessarily in the area of direct patient care. Nominees must also demonstrate a level of commitment to community service beyond the daily operation of the hospital and their contributions may be overshadowed due to personal modesty and genuine humility.
Swedish Medical Center is located in the south and west metro Denver area where it has been a proud member of the community for more than 110 years. An acute care hospital with 408 licensed beds, annually Swedish cares for more than 200,000 patients with a team of approximately 2,000 dedicated employees, 300 volunteers and 1,400 physicians.
With stroke door to treatment times averaging just 20 minutes, Swedish serves as the Rocky Mountain Region's referral center for the most advanced stroke treatment, and was the state's first Joint Commission certified Comprehensive Stroke Center. Swedish also serves as the region's neurotrauma and orthopedic trauma provider and is a level I trauma facility with a dedicated burn and reconstructive center. Over 150 facilities regularly transfer highly complex cases to Swedish.
Swedish Medical Center is proud to be a part of the HealthONE system of hospitals that earned the ranking as the #7 corporate philanthropist in the metro area and was the only hospital system ranked in the top 10. HealthONE contributed more than $1.5 million in 2018 and supports over 150 organizations through cash and in-kind donations. Additional information is available at www.SwedishHospital.com.
Contact
Swedish Medical Center
Kara Hamersky
(303) 817-5708
www.swedishhospital.com

Contact