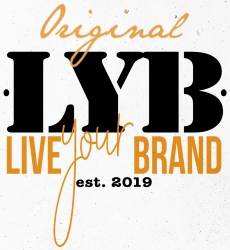 Goldsboro, NC, May 02, 2019 --(
PR.com
)-- Sean Douglas announces the launch of his Empowerment & Affirmation Clothing Line beautifully designed to promote self-love. Everything LYBClothing Inc. stands for; they believe in recreating the current social climate. LYB Clothing Inc. believes in valuing how people see themselves over how others view them and think about them. The way they recreate the current social climate is by empowering people to not being afraid to Live Their Truth, Show Their Authenticity, and Wear Their Transparency.
Join the #LiveYourBrand Movement & take back control of loving yourself by going to
www.LYBClothingInc.com
"LYB Clothing Inc. is my passion project and something I care deeply about. Creating something that empowers you the buyer, consumer, the wearer of this clothing line to live your truth, show your authenticity, and wear your transparency, is what I believe will change hearts and minds," says Sean Douglas, Founder of LYB Clothing Inc. "We often live according to how someone else views us. We care more about if someone likes us, if someone accepts us, or if someone cares about us, than we do about how we care about ourselves. This needs to change! I am on a mission to challenge the status quo. LYB Clothing Inc. is about living Your brand, not someone else's. It is about living Your truth, not hiding behind someone else's opinion of how you should live your life."
About The Founder: Sean Douglas served in the U.S. Air Force, is a TEDx Speaker, Master Resilience Implementer, International Radio Show Host of Life Transformation Radio, Business Positioning Strategist, and Author. Sean works with Entrepreneurs, Speakers, and Business Owners to improve their Positioning in the Marketplace, which increases their profitability and decreases the stress and anxiety they feel in business and at home.