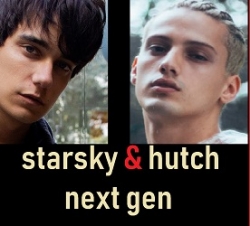 Los Angeles, CA, May 05, 2019 --(
PR.com
)-- Legendary Starsky and Hutch are brought to a new generation of fans via their sons Davis and Kent in Kindle book, "Starsky and Hutch Next Gen," available exclusively on Amazon. https://www.amazon.com/dp/B07QMXSYNG
The new crime-fighting duo are not only partners, they're brothers, as they share the same mother, Paris, who died when they were young teens. Davis and Kent take on the hardest criminals Bay City has to offer, from snuff filmmakers, to underground death matches, to Satanic cults.
Other major characters include Tasha Brown, (Huggy's daughter, an RN); their psychic friend Mo, who owns a gym; and Lucky, a friend/hooker trying to go clean.
Buckle your seat belts and grab your tissues, because the cast's private lives are as challenging as their professional ones.
About the author: Tammy Ruggles has been published in print and online since 2002, with credits that include Disney's Family Fun Magazine, Vox, TheMailOnline, Chicken Soup for the Soul, A Cup of Comfort, Independent Journal, Newsmax, Amazon, and many more. Although her first paperback book, "Peace," was published in 2005, "Starsky and Hutch Next Gen" is her first novel.