Acquire Volunteers at Local Boys and Girls Club
Part of the Acquire team donated their time to a local Boys and Girls Club by helping out with an after school program for elementary and middle school kids.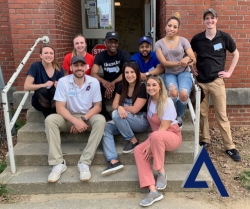 Raleigh, NC, May 15, 2019 --(
PR.com
)-- With college graduation less than a week away, Acquire, a Raleigh based marketing agency, has put a large focus on the upcoming graduates and their job search. However, the agency recently decided to shift their focus to a younger age group by volunteering at an after-school program held at a local Boys and Girls Club (BGC) of Wake County. Acquire's leadership core suggested illustrating the professional development they have received at Acquire by donating their time to BGC and influencing the next generation.
Aside from conducting marketing and sales campaigns, Acquire's mission is to develop men and women into professional leaders while providing them with a steady career path in one of the top business industries. Throughout the development process, Acquire's management team offers mentorship and training to set businessmen and women up for life-long success. When choosing the company's next philanthropy, the marketing team recognized that the developmental aspect of BGC's mission was similar to that of Acquire's. It was then that the team knew they had found the perfect match. Although each organization develops individuals in different ways and of different age groups, the similarity helped form a common ground between the two.
"The BGC has an exceptional reputation and culture of investing in its young people, similar to that of our company, we felt it was necessary for us to take advantage of one of their volunteer opportunities. Wednesday was an incredibly impactful afternoon for our team and we hope that our participation made as big of an impact on the BGC members as the members and organization have made on us and the Raleigh community as a whole."
- Grant Gulledge, Sr. Director of Operations at Acquire
While Acquire focuses more on career development in young adults, one of BGC's main pillars is character development in adolescents. From humble beginnings in Hartford, Connecticut to becoming one of the nation's largest, most well-known organizations, the Boys and Girls Club of America has worked to provide a positive alternative to children who may have less fortunate home-lives. BGC was founded in 1860 and now, over a century later, BGC continues to provide positive reinforcement and mentorship to kids across the country.
"Volunteering at the Boys and Girls Club in Raleigh was an awesome experience. I really enjoyed helping out with their soccer practice and playing games with them in the gym! The biggest impact this experience had on me was when multiple members continued asking when we would be back. It meant a lot that these kids, who we just met, wanted us to come back after one day. Not only was it a great experience to give some of our time to them and help out, but it was also an amazing experience to see how positive the boys' and girls' responses were to us being there for them!"
- Rich Foil, Client Representative at Acquire
For over 50 years, BGC has served the youth of Wake County, NC and with the assistance of local volunteers, the hard-working BGC staff ensures every child has the chance to excel in all aspects of life. Through receiving these development opportunities, the kids and teens of BGC are able to reach their full potential as responsible Wake County citizens. Who knows, in the future, when current BGC of Wake County members prepare for their own job search, some may seek employment with Acquire and continue their development as young professionals in the marketing industry. In the meantime, the Acquire team plans to return as volunteers at the local BGC locations as often as possible.
To discover ways to get involved in the local Boys and Girls Club of Wake County and learn more about their mission, visit their website, wakebgc.org.
To learn more about Acquire's philanthropic efforts and community involvement, visit www.acquireraleigh.com.
Contact
Acquire
Rebecca Samson
(919) 817-1418
acquireraleigh.com

Contact