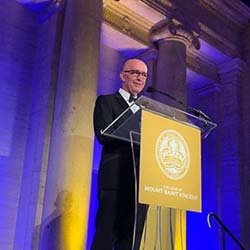 Garden City, NY, May 15, 2019 --(
PR.com
)-- Industry leaders Richard White, CEO of ShelterPoint Life Insurance Company (ShelterPoint) and Mary Griffin, President and CEO of the Life Insurance Council of New York (LICONY), together with over 400 valued clients, partners, employees and friends in a virtual "who's who" in the insurance industry, raised over $560,000 at a tribute scholarship dinner on Wednesday, May 1, 2019, for the College of Mount Saint Vincent's scholarship and financial aid initiatives.
A program close to Richard White's heart is the College's Mott Street Scholarship Program which helps gifted students who have experienced homelessness or persisted through foster care. This scholarship program covers tuition, year-round room and board, fees, books, a computer, and insurance.
Mr. White and Ms. Griffin were honored at the gala for their "strength of character, leadership, business acumen, and devotion to the common good."
Mr. White attributes this recognition to his entire team at ShelterPoint for the New York Paid Family Leave program: "My associates and I decided to take the lead in educating the New York community about Paid Family Leave, and working hand-in-hand with government to implement this new mandated benefit. Tremendous thanks to my wonderful, hard-working and smart team of associates from ShelterPoint for making this honor possible."
The theme of support was woven throughout Mr. White's remarks "...Think of the teenagers who are homeless, in foster care...Through the Mott Street Scholarship Program, Mount Saint Vincent becomes the family these kids needed to get the support – that we all need – to get a great education, to have a start at a successful life."
Mr. White has almost 35 years of experience in creating and implementing effective strategies for business growth, diversification, product development, sales expansion, and operational excellence for several leading insurance companies, including Pan American Life Insurance Company, The Guardian Life Insurance Company, and New York Life Insurance Company. He also serves as a member of the Board of Directors of The Insurance Federation of New York (IFNY), and a member of the Board of Directors of LICONY.
About ShelterPoint
The ShelterPoint family of insurance companies consists of ShelterPoint Life Insurance Company and ShelterPoint Insurance Company. ShelterPoint Life was founded in 1972 as The First Rehabilitation Insurance Company of America (First Rehab Life) and is headquartered in Garden City, NY, as a NY-domiciled insurance company. Since its inception, ShelterPoint Life has grown into New York's largest(1) statutory disability and Paid Family Leave carrier. Through the years, ShelterPoint Life has added additional employee benefits to its product portfolio and currently insures more than 168,000 employers and over 1.7 million individual insureds. In 2014, First Rehab Life changed its name to ShelterPoint Life Insurance Company. For more information about ShelterPoint, please visit
www.shelterpoint.com.
(1) State of New York Workers' Compensation Board, form DB-680, 2016 – applies to statutory disability premiums under ShelterPoint Life Insurance Co. only.
About the College of Mount Saint Vincent
Founded in 1847 by the Sisters of Charity, the College of Mount Saint Vincent offers nationally recognized liberal arts education and a select array of professional fields of study on a landmark campus overlooking the Hudson River. Committed to the education of the whole person, and enriched by the unparalleled cultural, educational, and career opportunities of New York City, the College equips students with the knowledge, skills, and experiences necessary for lives of professional accomplishment, service, and leadership in the 21st century.