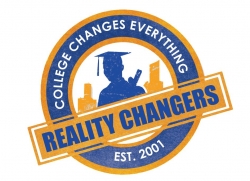 San Diego, CA, May 16, 2019 --(
PR.com
)-- Reality Changers, a nonprofit organization that provides students from disadvantaged backgrounds in Southern California with academic support, financial assistance, leadership training, and ultimately creates college graduates, is celebrating its 18th Birthday with an inaugural Founding Day peer-to-peer fundraiser. The goal is to raise $18,000.
From Thursday, May 16, 2019 through Sunday, May 19, 2019, fundraising efforts will be doubled through the Alumni Fundraisers, which will increase the funds Reality Changers can receive up to $36,000. A special donor has offered to match the money that alumni are able to raise, which can be made through individuals' alumni, friend, volunteer, and staff pages. Each alumni knows firsthand how much of an impact Reality Changers has made on their lives, and giving back through one of their special websites will allow them to double their individual impact. To donate through an Alumni Fundraiser, go to:
https://www.justgiving.com/campaign/RCDayofGiving2019
.
Throughout the campaign, alumni, staff, and volunteers will share their personal stories and speak about their involvement with Reality Changers. Donors will get a chance to see the real-world difference Reality Changers has had on the lives of those who have needed the program the most.
"We need the community's help to raise funds so that we can continue our mission of serving those who need it the most," said Kimberley Phillips Boehm, Interim Executive Director and Board Chair. "Ultimately, our vision is to create a world where students have universal access to college, one community at a time. With this campaign, we will be able to raise the necessary funds to continue this mission for eighteen more years."
Reality Changers was founded in 2001 with minimal funding and assistance. Since then, the nonprofit has served over 2,000 graduates who have earned over $140,000,000 in scholarships from a variety of sources. With hundreds of students on waiting lists to join the program, Reality Changers can use the donations to reach a larger group of students. The students will receive more academic and non-academic face-to-face time through the program, which ultimately allows them to succeed throughout the rest of their lives.
To learn more about the campaign, go to:
https://realitychangers.org/campaign/
About Reality Changers: Reality Changers believes that college changes everything, especially for low-income youth. That's why Reality Changers helps low-income participants become first generation college students and guides high-performing 12th graders to the nation's top colleges.
After Reality Changers began in 2001 with just four 8th-grade students and $300 to its name, the program's graduates have earned $10,000,000 in aid and scholarships. Former US Secretary of Education Arne Duncan described Reality Changers as "a model for the nation." Visit
www.RealityChangers.org
for more.