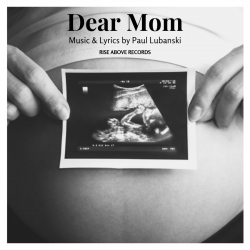 Detroit, MI, May 17, 2019 --(
PR.com
)-- "Dear Mom," Michigan native Paul Lubanski's 21st song release is spiraling around-the-world with the help of the Christian pro-life community. Its message is profoundly presented both lyrically and performance-wise.
It features a mellifluous anonymous female voice speaking to her mother from-the-womb; requesting that her Mom both keep her full-term and raise her into adulthood.
"Dear Mom" is currently available on YouTube (Search: Paul Lubanski "Dear Mom") and will be released worldwide on May 17th in a multitude of online stores.
Portion of proceeds to have been pledged to benefit the Ave Maria Christian Radio Network.
On May 24th, Lubanski will release two additional Christian flavored tracks - both love oriented - "Now I See" and "When The Real Love Begins."
Here is what 2016 Presidential candidate and International Christian Conservative Leader, as well as FOX News TV host said in his May 09th Newsletter:
"In honor of Mother's Day
"By Mike Huckabee
"In honor of Mothers' Day on Sunday, and in honor of all the recent efforts to change hearts and minds and end abortion, here is something that I know will brighten your day. You'll want to share it with everyone, especially your mom.
"This is a heartwarming video for a beautiful new pro-life song called 'Dear Mom.' It's by Paul Lubanski, and it was passed along to me by 'Huckabee' writer, Laura Ainsworth after Paul shared it with her via her Facebook fan page. Like having children, this video might make you cry at certain times, but I'm sure it will also make you smile a lot."