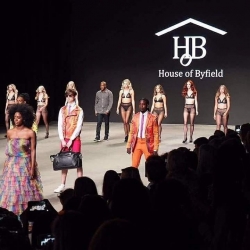 Manhattan, NY, June 03, 2019 --(
PR.com
)-- New York Summer Fashion Explosion is hosting its annual event scheduled for June 22nd at the Metropolitan West 639 W 46th St, New York 10036.
Event time is 6 pm for the Red Carpet Experience and the show presentation starts at 7 pm.
The show is slated to present 10 local and international designers with two notable designers brands, Videmus Omnia, and International Designer from the Netherlands, House Of Byfield.
This year's event is hosted by Teresa Giudice of The Real Housewives of NJ.
Performances by So You Think You Can Dance winner, Kida The Great and winner of the Four on Fox, Whitney Reign.
The crew from VH1 Mob wives is also descending into the city on this glorious night, Karen Gravano and Ramona Rizzo.
The evening is set to have an MTV crew capturing parts of this spectacular event for their new reality TV show "Made In Staten Island" with guest model star Karina Seabrook.
The very first Rose Gordon Designer Scholarship Award will debut at the New York Summer fashion Explosion to a lucky student. The goal for this amazing initiative is to assist a student designer with the financial assistance needed to complete their four-year degree.
The program's first recipient is Kyemah McEntyre, a new graduate from the New School / Parson School of Design. Kyemah is the young designer that created her high school prom dress that went viral for her amazing talent.
The official presentation will be conducted during the show with a notable guest and founder Rose Gordon as presenters.
The afterparty is scheduled at the Hudson Yacht Pier
W. 41st & 12th Ave.
Pier 81
New York, NY 10036