Thinking Robots and a New Type of Robot Assistant: Travelmate Robotics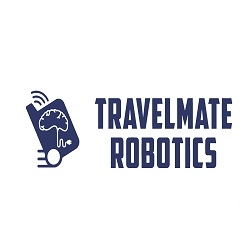 Las Vegas, NV, June 04, 2019 --(
PR.com
)-- The world is witnessing the start of the age of robotics. An all purpose robot assistant that can carry your things for you – it's like if you mixed R2D2 with a butler and a suitcase. A person uses their smartphone everyday because it's a portable supercomputer available at the tips of your fingers, so how do companies do the same thing for robotics, and what makes them think that robots are going to be a part of our everyday lives? The answer is, they already are.
Travelmate has thousands of uses which make it the Swiss army knife of robots. It follows you around autonomously and carries your stuff for you. It can talk to you and help organize your day-to-day activities via Alexa integration. It'll even be able to be used as a medical device, so that it acts as a 24 hour robot nurse that can carry medical equipment with the patient. Clients can imagine that it can be used in all sorts of situations – for example, you can put your golf clubs in there and use it to carry them at the golf course. People can even use it to play augmented reality games using multiple robots and a smartphone application.
Travelmate Robotics is launching an investment fundraising round for the first robot assistant and self moving suitcase. The uniqueness of this raise is that anyone in the world can invest into this American company; which is the whole point of this type of "pre-IPO."
https://wefunder.com/travelmate.robotics
Bloomberg and Business Insider estimate that investors have the potential to tap into a 1.7 billion+ market. Maximillian from Travelmate Robotics says, "People will have the opportunity to invest into a new era that is ushering in the mass adoption of robotics. Imagine if someone could go back in time and invest in Apple right before they announced the iPhone. That is the investors opportunity now with Travelmate Robotics. Apple's share price hovered at around 15 dollars before the first iPhone was announced. Now, Apple's share price is an astounding 197 dollars per share.
"Travelmate robots will become a part of people's everyday lifestyle. People can use them if they're going to work, heading over to school, rushing to the airport or if they're going shopping. The opportunities are endless and the convenience is easily understood. This is even more true for families and is especially true for people with physical disabilities that limit their movement and/or carrying abilities. As cool as this is, the future for Travelmate is even more interesting."
The Travelmate team is planning on adding functionality that will allow it to hold adaptive discussions, based on what the user says to it. It will be able to take photos and videos. Users will be able to connect your robot to smart home devices, so that the person can tell your Travelmate to adjust your home's temperature or do things like turn on your TV. It'll even be able to tell bed time stories for the user's kids and play music! When you think about it, Travelmate has the perfect form factor for an all purpose robot. Travelmate robots will only get smarter and more feature rich as time goes on.
The company behind this product, Travelmate Robotics started 3 years ago and since then has made the Travelmate a consumer ready mass produced robot. It's available on their website at travelmaterobotics.com.
Travelmate Robotics has developed new technology, for which it was granted exclusive patents in the United States and around the world. These patents don't just cover the robot assistant and self moving suitcase aspects, but also its breakthrough artificial intelligence systems. This AI enables it to make decisions dynamically whilst avoiding obstacles and trying to find an optimal route. The patented artificial intelligence technology that they have developed has applications beyond Travelmate robots.
Right now, even the smartest of cars are only able to react to their sensors to avoid potential collisions or provide rudimentary autonomous movement. Travelmate's artificial intelligence software would enable cars to make decisions dynamically and to "think" about where they are going. This technology could be used to speed up the adoption of autonomous cars, as it makes them much smarter then they currently are.
To find out more, please head over to their wefunder campaign: https://wefunder.com/travelmate.robotics
Contact
Travelmate Robotics
Maximillian Kovtun
702-601-8303
travelmaterobotics.com

Contact