Color Tango Musicality Seminar
A Seminar for Tango Dancers and Tango Music Lovers. An informative and inspiring Seminar on the history and evolution of Tango music by one of the most extraordinary Tango Orchestras in the world... The Color Tango Orchestra.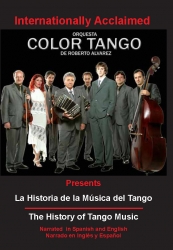 Tampa, FL, April 01, 2008 --(
PR.com
)-- Internationally acclaimed Color Tango Orchestra creates an inspiring and informative seminar for Tango dancers and Tango music lovers. The seminar is narrated in Spanish and English.
Color Tango Orchestra from Buenos Aires, and Librero Multimedia Productions from Tampa, created a joint venture to produce and distribute a DVD featuring a seminar on the History and evolution of tango music.
The seminar was filmed live at Libreros dance facilities in Tampa, Florida during Color Tango's USA tour in October 2007.
The seminar is the result of an intense study by the orchestra's Bass player - Manuel Gomez. The seminar is narrated in Spanish (mainly by violinist Diego Lerendegui) and translated to English by Emilio Librero.
The seminar covers the birth as well as the various stages of Tango music from 1880 to 1995, and how these stages were directly related to the ever-changing social situation in Argentina. The stages: "Tango Origins," "Old Guard of Tango," "New Guard of Tango" and the "40's Guard."
You will discover:
* Which three instruments created an explosive combination in Tango
* How the concept of polyphony will multiply your music appreciation
* How maestros interpreted written music differently, and how understanding this could make you an outstanding dancer
All the musicians in the band participate in the narration which is combined with musical examples showing the different ways of playing - trios, quartets, sextets and orchestras like De Caro, Fresedo, D'Arienzo, Troilo, Pugliese.
For additional information about the seminar visit http://www.tangodance101.com
Color Tango Orchestra
The Color Tango orchestra has a special place among the many ensembles that pay tribute to the legendary Pugliese style. The orchestra is conducted by bandoneon player and composer Roberto Alvarez.
Since their debut in 1989, Color Tango has become internationally known as one of the world's best tango orchestras, delighting musicians & dancers throughout the Americas, Europe and Japan.
For additional information about Color Tango Orchestra visit: http://www.colortango.com.ar
Librero Multimedia Productions
Emilio and Blanche Librero have been operating their own successful Dance Studio in Tampa and producing high quality instructional videos since 1979. Librero's "How to Become a Good Dancer" video series is sold nationwide, and has been feature on Television and Radio, as well as printed publications throughout the country.
Contact Emilio or Blanche Librero for more insights into this topic. Toll free number 1-800-443-5641 Email: librero@dancetimes.com
Other helpful information regarding the seminar can be found at: http://www.tangodance101.com
###
Contact
Librero Multimedia Productions
Emilio Librero
813-253-0644
www.TangoDance101.com

Contact