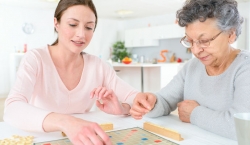 Dallas, TX, July 09, 2019 --(
PR.com
)-- Selecting the right in-home care agency for your loved one can often be a daunting and overwhelming task. They deserve the absolute best, but it can be hard for one agency to meet all of the criteria you seek.
- They must offer the services that you desire
- They need to be reputable and experienced
- The caregivers must be patient, compassionate and friendly
- They need to be affordable
High-quality in-home care is about more than just providing caregivers with the right qualifications. It is about offering dedicated individuals who truly care about a senior's needs and connect with him or her in a meaningful way. This level of care is often a pivotal step in helping seniors realize their goal of aging in place, and it is exactly the kind of caregiver Optimal Alliance Home Care provides.
Optimal Alliance Home Care is now offering a new concierge program which tackles the tasks of handling house maintenance calls, bill management, house sitting, errands and much more. The services are completely customizable and vary from client to client. There is no minimum or maximum amount of time they provide care; they can begin work as soon as needed, and they work with families, trustees, guardians, and care facilities to make sure it meet its clients' non-medical needs.
The new concierge program will allow clients to remain comfortably at home, while a trusted advisor handles the most daunting daily tasks. Optimal Alliance Home Care trusted advisors work close with local businesses and resources, to make sure we are providing the best services and access to everything a client needs. Optimal Alliance Home Care has paired itself with great companies to offer discounts and immediate access to these on demand resources.
Optimal Alliance Home Care is enabling seniors and older adults to lead a happy, healthy, and independent lifestyle from the comfort of home.