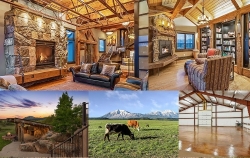 Denver, CO, July 15, 2019 --(
PR.com
)-- Now featured on coloradohorseproperty.com, Daudi Ranch Estate boasts over 7000 sq.ft. of modern and rustic mountain appeal. Daudi Industries' founder, architect and contractor, Dave McPherson, has been using the Colorado mountain landscape as inspiration for his masterfully built homes and commercial buildings since his start in 1979.
"For me, the landscape of the project creates the design of a home," said McPherson, when asked what fuels the design of his works. "At the end of the day, my main goal is to have my structures reflect the beauty of natural landscape that surrounds them. I think of myself as an artist in my line of work, and as such, my duty is to add visual appeal that highlights the unique qualities in each environment."
In Daudi Industries most recent work, one can see the mix of large rustic wood beams and pillars, steal and stone, with strong modern flair, creates a dramatic effect. His latest home is set near the Spanish Peak foothills, in Southern Colorado. Available for purchase, this estate proves to be one of kind.
For more information please visit
www.daudiranch.com
or call Emily Martin at 720.589.8370.