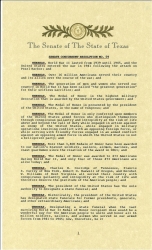 Dallas, TX, July 22, 2019 --(
PR.com
)-- Bi-partisan initiative to request the President of the United States designate final salute to greatest generation of veterans.
Both chambers of the Texas State Legislature recently passed a joint resolution calling on the Trump Administration to provide a state funeral in Washington. D.C., for the last remaining World War II Medal of Honor recipient when he passes away.
In total, 473 Americans were given our nation's highest military honor during the Second World War. Today, only three remain.
This nationwide, bi-partisan initiative was led by the nonprofit
State Funeral for World War II Veterans
Chairman
Lee William (Bill) McNutt
and spearheaded by state Representative Rick Miller and state Senator Brian Birdwell.
"Texas is one of only three states that is home to more than one million veterans, along with California and Florida," said McNutt. "Getting a resolution supporting a State Funeral in Washington, DC for the final MOH recipient from World War II from the Lone Star State will have a positive impact on our work in other states."
McNutt went on to state, "We are blessed that a decorated military veteran, a holder of the Bronze Star and Purple Heart, Senator Brian Birdwell displayed his love of the World War II Veteran by getting our resolution passed by both chambers in Austin with the help of fellow veteran Representative Miller and signed by Governor Gregg Abbot."
Senator Birdwell said, "I am proud, as a Texas State Senator, a veteran and a first-hand witness to the 9-11 attacks, that our state is among the leaders in the country to advance this initiative. A State Funeral for the last remaining World War II Medal of Honor recipient is a proper way to bid a final farewell to those brave men and women who preserved freedom on earth."
McNutt and the State Funeral for World War II Veterans organization requests the public to offer their support by visiting its
Change.org
petition.
The State Funeral for World War II Veterans' nationwide campaign calls for the President of the United States to designate a state funeral for the last Medal of Honor recipient from World War II, as a final salute to the 16 million men and women of the greatest generation who served in our armed forces from 1941 to 1945. The White House holds sole authority to do so and does not require approval from the U.S. Congress to enact.
A State Funeral is a 7 to 10-day national event and consists of ceremonies within the state where the honoree was in residence. Ceremonies within Washington, D.C., and in the state (or at Arlington National Cemetery) where the authorized individual has chosen to be interred. All funeral arrangements are made by The U.S. Military District of Washington, D.C., and involve Armed Forces honor guards, elite military bands, and/or guns support, according to White house.gov.
The last two State Funerals were Ronald Reagan in 2004 and George Bush in 2018. The last non-Presidential State Funeral was General Douglas MacArthur in 1964.
This effort is the brainchild of McNutt's 10-year-old daughter, Rabel, a public school student, in honor of her godfather, Walter Ehlers, Congressional Medal of Honor recipient for his efforts at The Battle for Normandy in June 1944.
Three World War II Medal of Honor recipients remain with us: Hershel "Woody" Williams of West Virginia, Francis (Frank) Currey of New York and Charles Coolidge of Tennessee. All three are more than 90 years of age.
Texas is one of four states to pass such a resolution.