Jennifer Rose Pagano Honored as a Woman of the Month for September 2019 by P.O.W.E.R. (Professional Organization of Women of Excellence Recognized)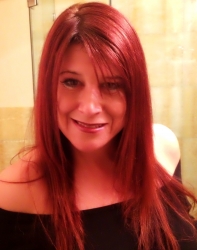 Cape May, NJ, September 11, 2019 --(
PR.com
)-- Jennifer Rose Pagano of Cape May, New Jersey is being honored as a Woman of the Month for September 2019 by P.O.W.E.R. (Professional Organization of Women of Excellence Recognized) for her outstanding contributions and achievements in the fields of jewelry design, music, photography and hotel management. Each month P.O.W.E.R. features women to represent their professions and industries due to their expertise and success in their chosen specialty.
About Jennifer Rose Pagano
A true Renaissance woman, Jennifer Rose Pagano owns and operates the Oceanfront Periwinkle Inn in Cape May, NJ. She is a singer, songwriter, voice over artist, photographer, manager of a hotel, and a jewelry designer with Jersey Jewelry and More. For the last five years, Jennifer has designed custom, unique jewelry, including bracelets, necklaces, rings and other pieces- all made by hand. She sells the pieces on the website, which she oversees. Jennifer creates and distributes the products and follows up with customers whenever necessary.
Jennifer Pagano is the owner of the family run Periwinkle Inn of Cape May, New Jersey and oversees the operations of the inn. Additionally, she runs events, weddings, conferences and ensures everything runs as smoothly as possible. She is a member of the Cape May Chamber of Commerce. A seasoned photographer, Jennifer is also a certified Google Street View 360 photographer.
Born in May of 1971, Jennifer Rose attended the Connecticut School of Broadcasting where she became licensed and certified as a radio and television broadcasting technician. She also attended Weist Barron Acting School and Such A Voice where she studied voice over artistry.
Ms. Pagano received Honorable Mention at the UK Festival4Stars Songwriting Competition in 2011. Her song "Harm" has won four awards worldwide. She was a Nashville Song Service Lyrics Only winner in the Pop Category for her song "H20." Jennifer Rose Pagano was the Unisong 2004 International Songwriting Competition Finalist for her song "Dress Rehearsal." She has written articles in several music publications. In her spare time, she enjoys singing and performing voice over work.
For further information, contact
www.jewelry.io
and www.periwinkleinn.com.
About P.O.W.E.R. Magazine (Professional Organization of Women of Excellence Recognized) and Powerwoe.com
P.O.W.E.R is an online community as well as a digital and exclusive print magazine featuring professional and famous women. Our mission is to provide a powerful network of empowering women who will mentor and inspire each other to be the best they can be. Through our valuable services, our members can network, collaborate with like-minded professionals, gain recognition and obtain knowledge from those who have already achieved success.
Contact
P.O.W.E.R. (Professional Organization of Women of Excellence Recognized)
S. K. Koop
516-365-3222
www.powerwoe.com
Ellen Gold

Contact