Once Upon a Time - All Grown Up. rĀthe Prepares Labor Day Launch.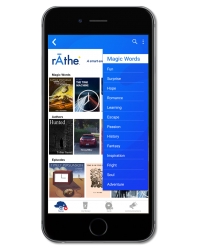 Austin, TX, August 26, 2019 --(
PR.com
)-- rĀthe will launch its patent pending mobile app in step with US Labor Day.
"Few labor like
authors
do over every aspect of their work," says founder Emily Maxx.
rĀthe mobile app creates 625-word episodes from whole stories provided by authors through their content management portal. "We toil over the precise way to transport our thoughts directly into another's consciousness. That is no easy task. We labor to communicate the intricacies of 'shared experience,' leaving the VR portion to the reader. When we get it right, the reader gets to build their very own movie set - in their head. I find that entertaining. Don't you?"
Emily went on: "Many people have been left out of that experience. Not by choice - but by delivery. We buy everything pre-packaged: meals of fast food, TV dinners, prepared, pre-prepped, pre-measured, or pre–everything-ed and delivered to our doorstep. Shouldn't
writers
expect our consumers to want the same. rĀthe is built on the premise that they do."
"We are super excited, and nervous, and tired, and all those things. We have been able to complete most of our Focus Group feature enhancements. Complete Volume purchase will follow shortly after by September 22nd. That delay is related to the literal volume of pricing tiers."
"However,
reading stories
a little at a time, based on whatever emotion you feel like at that minute, first one for free, then only .10 cents is a thing that just needs to be."
The rĀthe mobile app will be available on the Apple App Store on September 2, 2019, aka Labor Day.
Titles set for distribution to the mobile app on Labor Day can be found in the rathe.app Library.
Contact
rAthe
Dr. Katharine Hodgdon
512-967-1095
rathe.app

Contact