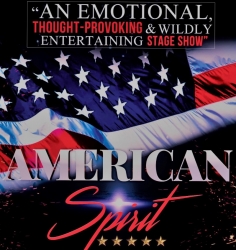 Alexandria, VA, September 13, 2019 --(
PR.com
)--
www.instantseats.com/index.cfm
- American Spirit is the story of a time in America when our leaders and music brought the country together to overcome two of our greatest challenges – the Cold War, that threatened to destroy America from beyond its borders, and the Civil Rights struggle, which threatened to tear it apart from within.
Hear how the music of the period not only got America through this most difficult period, but even brought the country together.
During the show you will experience sadness and joy, but mostly you will be inspired.
This is exactly the show that America needs right now - come and see it before it leaves DC.
The reviews are in:
"This was an inspiring, fabulous show featuring some great talent!"
"We saw Willie Nelson last month and the Rolling Stones (front row) last week- we agreed we had a better time at the American Spirit show than at either of these other, much sought after performances."
"This troupe could/should be on Broadway."
"This was a most entertaining show...with a purpose. It enlightens, inspires and entertains all at once. Bravo!"
"We had a great time! Show was outstanding! Also learned a lot of American history. Bonus! Thank you."
"American Spirit was such an amazing portrayal of the role that Music has had in the shaping of America. The singers were great. Thank you!"