CMMS Data Group Founder and CEO Ruth Hughes Makes Crain's Notable Entrepreneurs List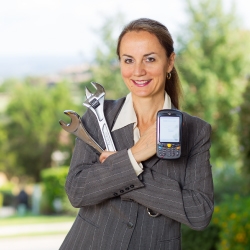 Chicago, IL, September 16, 2019 --(
PR.com
)-- CMMS Data Group's founder and CEO, Ruth Hughes, has made the Crain's Notable Entrepreneurs list, an accolade of Crain's Chicago Business that recognizes notable and industry-leading entrepreneurs from the Chicagoland area. The newspaper applauds Hughes for her incredible journey from a humble Illinois Institute of Technology graduate with little money in her pocket to founder and CEO of a multimillion-dollar maintenance and reliability software powerhouse.
In the late '90s, Hughes traveled 100% as an MP2™ CMMS software training consultant. At the end of each assignment, she was asked: "How do I get all of our data into the system?", "What are other companies doing?", "Can you help us on the weekends?" Hughes started CMMS Data Group using a $600 credit card check with the hopes of making reliability a reality for maintenance departments all over the world. She is proud to say that CMMS Data Group is fully bootstrapped, entirely self-funded by Ruth. Profits are reinvested into the company, contributing to the current 3-year growth rate of over 90%.
Hughes has enjoyed a few milestones over the past two years. MVP Plant CMMS software, CMMS Data Group's flagship product, was named the 2018 Product of the Year GOLD Winner by Plant Engineering in the Maintenance Software category. Additionally, MVP Plant was recognized by G2 as a High Performer in the CMMS category. CMMS Data Group also effectively doubled its office space in Chicago and plans to expand again by another third within the year. Another dream of Hughes' came to fruition in 2018 when the company held MORE! 2018, its first annual MVP Plant training, reliability, and user conference. Held earlier this year, MORE! 2019 doubled the attendance of the inaugural conference.
"To be recognized by Crain's Chicago Business newspaper as a Notable Entrepreneur is an incredible honor," said Hughes. "What started as a dream to help maintenance and facilities teams increase reliability, capacity, productivity, and profitability and achieve maintenance excellence has become a reality. Thank you to my team and our customers for making CMMS Data Group what it is today and for making the world more reliable."
Hughes has been engaged in the maintenance and reliability community since 1998. She is a Certified Maintenance & Reliability Professional and a member of SMRP. CMMS Data Group is also an SMRPCO sustaining sponsor. Under her leadership, CMMS Data Group was certified as a national Women's Business Enterprise (WBE) by the Women's Business Enterprise National Council. The company hosts its annual MORE! MVP Plant training, reliability, and user conference, and continues to promote reliability and manufacturing initiatives to not only help local businesses but global business, too. A native of Wheeling, IL, Hughes currently lives in a North Shore suburb of Chicago.
Connect with Ruth on LinkedIn: https://www.linkedin.com/in/ruth-hughes-cmrp-20a6b4/
Contact us today for more information: https://www.cdg.com/contact/
About Crain's Chicago Business
Crain's Chicago Business is a Chicago-based weekly business newspaper with an average print circulation of over 40,000 and a readership of over 210,000 per week. ChicagoBusiness.com, the paper's digital equivalent, has 1 million unique visitors per month and over 2.3 million-page views per month. Crain's Chicago Business is owned by Crain Communications, a privately held publishing firm with a robust portfolio of magazines including Modern Healthcare, Advertising Age, and Automotive News.
About CMMS Data Group
Founded in 2000 to help organizations achieve maintenance excellence, CMMS Data Group is the market leader in CMMS software and services. Led by the award-winning MVP Plant™ CMMS software, the Company also provides comprehensive reliability engineering services, enabling maintenance and facilities teams to increase reliability, capacity, productivity, and profitability.
Contact
CMMS Data Group
Nick Kissel
(312) 957-8575
www.cdg.com

Contact