Could You Live in 400 Square Feet or Less? Expo Offers Public Chance to Tour Tiny Homes
The City of San Luis Obispo approved tiny homes on wheels in March 2019 for qualifying backyards to help address high housing costs for residents. A tiny house and net zero expo in October gives the public the chance to tour tiny homes on wheels from several builders and attend presentations on tiny house and green living topics.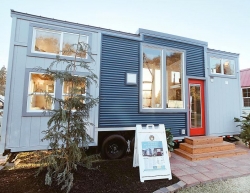 San Luis Obispo, CA, September 16, 2019 --(
PR.com
)-- With clever use of space to maximize every inch of their under-400 square foot floorplans, tall ceilings and plentiful windows, the petite dwellings known as THOW's (tiny homes on wheels) often strike first time visitors as surprisingly spacious, bright and livable. The public will have the chance to walk through tiny homes on wheels from several tiny home companies, plus local DIY builders, at Tiny Footprint Expo: Central Coast Tiny House and Net Zero Expo, coming to San Luis Obispo from October 11-13.
Many of the models to be displayed at the expo meet the guidelines set by the City of San Luis Obispo in its new ordinance allowing them in qualifying city backyards. Others, like school bus conversions ("skoolies"), vans, canvas houses and other creative housing options, may not qualify as accessory dwelling units under local rules, but will showcase the expanding definition of "home" this new trend reveals.
Two San Luis Obispo residents have already taken advantage of the opportunity opened up by the new ordinance. Anne Wyatt of SmartShare Housing Solutions explains, "Rita Morris, a health care professional who owns a tiny home, attended our first community workshop, where she met a SLO city homeowner who was interested in hosting her tiny home in his yard. They were the second "guinea-pigs" to go through the official process with the city, putting in an approved compacted pad and getting a permit for the utility hookups. After final approval of the site, Rita hired a towing service, and in mid-August they backed Rita's adorable tiny abode into its new setting - a lovely, shady backyard within the city limits. Now Rita has housing near her job that she can afford, and they'll share the yard through a yardshare agreement for rent." The very first resident to apply for a permit, Kenny Gazin of San Luis Obispo, built his own tiny home on wheels for his backyard and will build custom tiny homes for clients as well. Sustainable by design, tiny homes can be part of a strategy for individuals to reduce their resource use and impact on the environment.
Event organizers are betting that almost everyone who enters one of the well-crafted, well-insulated, light-filled tiny homes on display and speaks with residents will see how they or someone they know could live comfortably in one. "They are well-suited to house the growing number of single-person households; those who want to lessen their environmental footprint and live simply, at lower expense; and seniors who want to age in place or near family," says Celeste Goyer, operations director at SmartShare.
In addition to the opportunity to peek into homes and dream tiny--or purchase one and move in, the Tiny Footprint Expo will host a line up of informational workshops sharing expertise on housing and sustainability, from the nuts and bolts of DIY building to writing ordinances, micro-mobility, solar options, living a zero waste lifestyle and more. There will be food, local vendors and activities for kids. The event is a fundraiser for non-profit SmartShare Housing Solutions' three affordable housing programs.
Keynote speaker Eli Spevak from Portland, OR will talk on Compact Living in Community during the VIP kickoff event on Friday from 3-7pm.
More information on exhibitor houses, workshops, tickets, volunteer and sponsor and exhibitor opportunities at TinyFootprintExpo.com. Tickets $8 advance/$10 gate.
Contact
SmartShare Housing Solutions
Celeste Goyer
805-215-5474
tinyfootprintexpo.com

Contact
Multimedia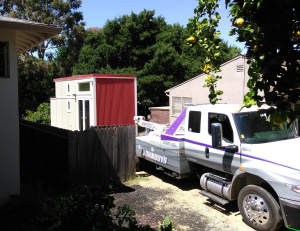 San Luis Obispo resident, Rita Morris moved her tiny home on wheels into a shared backyard, taking advantage of a new ordinance to help ease the housing crunch in the city.