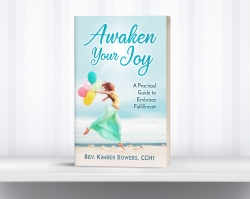 York, PA, September 26, 2019 --(
PR.com
)-- In the United States 61% of men and 51% of women report exposure to at least one traumatic event, and 90% of clients in behavioral health care have experienced trauma (SAMSHA-HRSA). Unprocessed trauma can develop into a variety of mental, emotional, and physical problems. This trauma can be pushed under and buried to a point that many don't readily recognize how it is affecting their lives.
P.A.V.E. Press introduces the book Awaken Your Joy: A Practical Guide To Embrace Fulfillment as a step-by-step guide to help individuals process the pain of the past, embrace the joy of their own worth, and step into a life of fulfillment through value-based identity and living.
Author, Rev. Kimber Bowers CCHt, guides the reader to recognize and rise above traumas of the past through inspirational stories and practical, time-tested self-help tools. She has worked with individuals in the field of self-development for over 12 years after struggling most of her life with her own Clinical Depression, PTSD, and Anxiety, and is now on a mission to support others on their journey.
Bowers explains:
· How to recognize where past trauma is holding you back
· How to break through the patterns of the past
· How to shift your perspectives in a way that empowers your own growth
· How to build evidence of your own worthiness and spiritual connection in practical ways
· How to align with your values to build confidence and gain more fulfillment in life
"I often hear from my clients, 'I know that I'm supposed to be good enough, but how do I start feeling and living like that is true?' The answer is by building the evidence to support it and developing the mindset that allows you to fully embrace the joy of being you," says Bowers.
"Do you have the courage to understand yourself in a new way? Kimber has taken an incredible lifetime of journeys and is teaching us how to truly integrate these bits of wisdom into a rich tapestry of possibilities and in the end, know we are good enough." -- Linda Bennet Ph.D., CCHt
Awaken Your Joy: A Practical Guide To Embrace Fulfillment is now available at Amazon.com, through Ingram Spark, and through other local retailers and libraries, and directly through the Publisher P.A.V.E. Press.
Contact:
Anne Powell, Client Relations Manger, P.A.V.E. Press
pavepress1@gmail.com
410-241-2217