6AM Run Aims to Close 2019 Strong
Come meet 6AM Run CEO and Founder Hami. Say hello to Rob who creates the content, and lastly meet new VP of Business Development Tim. The 6AM Run team will make its 1st ever stop at the Marine Corps Marathon Expo in DC on 10/25-10/26, Booth #113. Next up on 10/31-11/2 is the TCS NYC Marathon Expo, Booth #415. 6AM Run closes Marathon season on November 22 and 23 at the Philadelphia Marathon Expo, booth #200.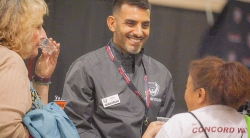 Wilmington, DE, October 21, 2019 --(
PR.com
)-- It has been a substantial year of growth for 6AM Run LLC. The 6AM Run Team, led by CEO and founder, Hami Mahani, is gearing up to finish 2019 with a trio of paramount Marathon Expo Events, that will carry them into the new year with a tidal wave of momentum.
The MCM (Marine Corps Marathon) Health & Fitness Expo will take place Friday, October 25 and Saturday, October 26 at the Gaylord National Resort & Convention Center, Halls A & B in National Harbor, MD. Expo attendees can find the 6AM Run team in Booth 113.
With over 100,000 fitness enthusiasts, military affiliated guests, volunteers from the country and over 50 nations expected to be in attendance. "This is an event that we as a company need to have a strong presence at, and what better cause then to support a branch of our military," said Mahani.
6AM Run will then quickly change gears the following week and head a few hours north to the Big Apple, to set up their booth at the world renowned TCS New York City Marathon Expo. The event will take place at the Jacob K. Javits Center, located in Halls 3B and 3E, at 11th avenue at West 35th Street, October 31-November 2. The 6AM Run team will be located at Booth 415.
After tackling the NYC Marathon as one of their very first events as a start-up company in 2018, the 6AM Run team is poised to make this another strong event in 2019. "There is something magical about this event. We learned so much last year from the world's largest marathon audience, and it has really set us up nicely to make our return to New York this year," Mahani stated.
6AM Run plans to round out their 2019 event schedule in their own backyard, at the AACR Philadelphia Marathon Health & Fitness Expo. The event will take place at the Pennsylvania Convention Center's Hall F, on Friday November 22 and Saturday November 23. Look out for the 6AM Run team at Booth 200.
"This will be our 2nd year in a row in Philly. With more than 60,000 runners and fitness enthusiasts expected to visit the Philadelphia Expo, it's simply an event we cannot ignore. Many of these folks are part of our 6AM running community, and it's a perfect event to end the year with. It also presents an even greater opportunity for us to reach more of the local running community," Mahani said.
It's necessary to mention that it has only been 18 months since 6AM Run, LLC's inception. For folks that will be attending one of these Expos, the 6AM Run team will be handing out samples of each of their formulas along with their vitamin coffee. They will also have a special $10 off show price, for each formula.
Contact
6AM Run LLC
Lo Skye
707-390-0097
6AMRun.com

Contact