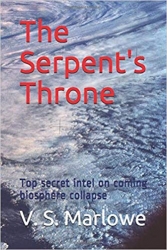 New York, NY, October 23, 2019 --(
PR.com
)-- International author V.S. Marlowe has just released THE SERPENT'S THRONE, a new blockbuster book claiming to leak secret government intelligence that shows the battle to save earth's climate -- and human civilization -- has been lost.
Marlowe, who previously surfaced THE LAST MESSIAH, a work purporting to show the hidden players behind Iran and the Islamic fundamentalist movement, now says he has new material from intelligence services that show how damaged our planet is.
THE SERPENT'S THRONE is now available as an Amazon Kindle ebook at https://www.amazon.com/dp/B07Z5K3Y8N
THE SERPENT'S THRONE is available as a paperback at https://www.amazon.com/dp/1697922309
"My sources say our leaders are suppressing the truth about our environmental collapse," claims Marlowe. "Leaders are trying to avoid panic, when the end of life as we know it is only a generation away... or less."
Marlowe says that his sources brought the material to him and asked him to release it publicly. As always, he questions their motives and agenda. He says the sources could be friendly or hostile intelligence services.
The book's narrator is a US energy trader, recording his interactions with suspected covert agents as well as paranormal encounters with animals, native shamans, dreams and historical texts.
The narrative is set in the Mexican coastal state of Xihua, and draws both on ancient history and the present to warn of fatal crisis in the oceans and atmosphere, pandemic threat to humans and actual historical accounts of a pre-Columbian Pacific cataclysm that seems tied to the world's future.
Other characters include a suspected Mexican cartel leader who seems to be fronting for foreign governments, a Russian psycholinguist, a marine biologist and a rumored cartel hit man.
Marlowe's preceding books published under his real name have drawn praise from U.S. Presidents and international leaders, as well as Kirkus, Publishers Weekly, The Chicago Tribune and Knight Ridder.
THE SERPENT'S THRONE is available on Amazon for $9.99 in kindle e book and $19.99 in paperback.
For more information, or to request an interview with V.S. Marlowe, call him on Skype at VSMarlowe, or email him at derekaragoninc@gmail.com.