UrbanRIP Celebrates the Day of the Dead
November 1 and 2 celebrate the Day of the Dead; all over the world we remember and celebrate the lives of our departed loved ones.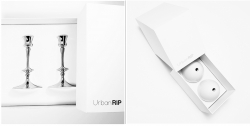 Toronto, Canada, November 03, 2019 --(
PR.com
)-- In many cultures, death is viewed as a natural part of a lifecycle, some cycles are long and some cycles are short and regardless of their length, they are all equally meaningful. While it's expected to grieve a loved one, it's also natural to want to celebrate their existence and the special place they had and will always have in our heart.
The Day of the Dead is celebrated in many parts of the world but it originates from Mexico, where it's believed that loved ones awake and celebrate with the living. This tradition is filled with colour, music and dance. And rather than reflecting on it as a day of sadness, Mexican culture views this day as a celebration.
To celebrate #dayofthedead UrbanRIP is offering 30% off all 2-Set Candlestick Egg-Urns (sales tax and shipping included within U.S.A and Canada) for a limited time, restrictions apply, see website. Use Code: DAYN19
UrbanRIP, a Toronto design start-up, relates to the Mexican culture's inspiration of celebrating our loved ones that have departed by celebrating our departed ones not just once a year but every day, in our homes.
Enlightened by misfortune and inspired by nature, UrbanRIP brings a new option to families that choose cremation and wish to share their loved one's ashes; a discreet urn option, the Candlestick Egg Urn, for ash-sharing that fits seamlessly within a home's décor. Our lifestyle and busy lives may make it challenging to regularly pay tribute to a departed loved one, families and loved ones have a new and unique memorial solution available to them.
"For those wanting to share ashes, UrbanRIP Candlestick-Egg-Urns are a convenient way to hold a small amount of cremated ashes, and display them proudly and discreetly within your home," says Agnes Galas, UrbanRIP Founder and Creative Director. Ash sharing may avoid conflict within the family and to keep a loved one close by. These urns also offer a memorial solution for beloved pets. In addition to offering a practical solution, these Candlestick Egg-Urns are beautifully designed. Unlike a traditional funeral cremation urn, their modern classic look complements the style of your home; concealed and revealed all at the same time.
Rooted in the design of traditional modernism, their cremation urn is in the shape of an egg, because of its universal appeal – an egg is the beginning of all life forms, a seed with a promise of rebirth and hope. Paired with a candlestick that provides a burning light which can be used to celebrate and bring comfort and warmth to the memory of our departed loved ones, on special occasions and every day. The cremation urns are also designed with threadable and interchangeable components, making them modular, easy to create a personalized configuration and symbolize the healing process after a loss. "You grieve a loss and rebuild slowly to love yourself without them. Rethreading yourself from within," says Galas.
Celebrating #DayoftheDead
Promotion code: DAYN19
About UrbanRIP
A family-owned Canadian design company based in Toronto, UrbanRIP supports the natural evolution of society's stigma on death, including and not limited to ash sharing and Scattering memorials. Our products can be purchased online at urbanrip.com with complimentary shipping in Canada and the U.S. The Candlestick Egg-Urns are customizable in the "design your own" section of their website. UrbanRIP plans to unveil full-sized and biodegradable urn options in 2020.
Instagram: @urban_rip
Facebook: @urnsReinvented
Source: UrbanRIP Inc.
www.urbanrip.com
Contact
UrbanRIP Inc.
Agnes Galas
1-844-933-8767
www.urbanrip.com

Contact
Multimedia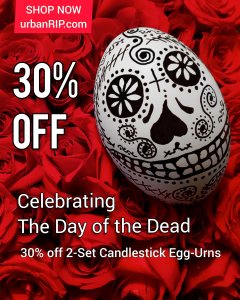 To celebrate #dayofthedead UrbanRIP is offering 30% off all 2-Set Candlestick Egg-Urns (sales tax and shipping included within U.S.A and Canada) for a limited time. Use Code: DAYN19 #diadelosmuertos #dayofthedead #art #skull #cremation #urns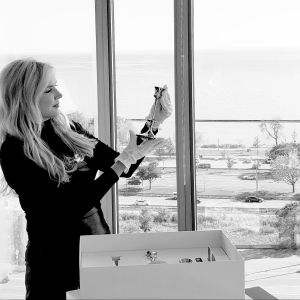 Back from polishing and sun-kissed. Cremation urns designed to be sharable and are egg-shaped, because of its universal appeal – an egg is the beginning of all life forms, a seed with a promise of rebirth and hope. #Grief #loss #cremation #ashsharing #homedecor #madeincanada #Death #Dayofthedead