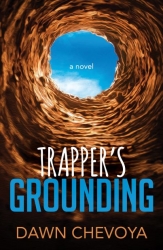 Lansing, MI, November 04, 2019 --(
PR.com
)-- Chevoya's debut urban fantasy targeting young readers in grades 4-7 is set in 1995 in Michigan's Upper Peninsula and depicts a seventh grader named Brennon, struggling to make sense of his life within a family whose strong suit is not love and affection. Battling the version of himself that is bubbly and social at school against the version that recoils when home, Brennon discovers a fantastical world where his imagination creates the getaway needed to get him through his day. In 'Trapper's Grounding," Greywacke (The offspring of the real test-diving beaver who in 1948 aided the Idaho Fish and Game Department in parachuting to new habitats 76 live beavers intruding on a new housing development) offers Brennon, a magical tesserapod, with a promise that it will develop into a "lodge of sorts," if it is grounded correctly.
Dawn Chevoya, a former librarian at Williamston (MI) Middle School for thirteen years, brings a wealth of sensitivity and understanding of children to her work, "Trapper's Grounding." With her insightful way of relating to children struggling with home life, or social pressures, Chevoya's work unpacks Brennon's reality as she depicts how he deals with common problems concerning self-esteem and childhood emotional neglect.
While navigating the heavy topics explored in "Trapper's Grounding," Chevoya calls to fore the importance of imagination while featuring themes of self-reliance and mutual dependence. In her exceptional way, Chevoya speaks to the importance in believing in one's self while emphasizing the importance of maintaining an open dialogue with those who exude a positive influence. In a world of magical realism, "Trapper's Grounding" invites kids to watch as Brennon explores the fantastical while continuing his search for connection and truth.
The book has garnered two finalist awards from the 2019 Next Generation Indie Book awards. If you would like more information or to schedule a school visit or interview with Dawn Chevoya, please call Nickcole Watkins at 516.900.5674 or the author at 517.482.1320.
About the Author:
While managing a middle school library for thirteen years, Dawn Chevoya enjoyed bonding during lunch hour with kids on the fringe and with students after school working on yearbook layouts, all of whom inspired her first novel, Trapper's Grounding. Chevoya has a son and daughter and frequently supplies gummy worms to her seven grandchildren. She was born in Fresno CA, grew up in Miami FL, and now lives in Lansing, where she works at the Western Michigan University Cooley Law School Library.
More About This Title:
Trapper's Grounding by Dawn Chevoya, released by Morgan James Publishing, New York, New York on May 21, 2019. Trapper's Grounding - ISBN 9781642791341 - has 188 pages and is being sold as a trade paperback for $14.95. Available where books are sold.