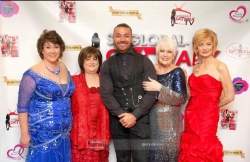 Dallas, TX, November 08, 2019 --(
PR.com
)-- Stage 4 cancer, a disease that cuts too many lives short and carries a stigma of fear and uncertainty, can be lived with courage and beauty. Say YES to Hope co-founder Suzanne Lindley and international designer, fashion mogul and Dallas resident Samina Mughal, owner of SMGlobal Catwalk partnered to share a special event that allows stage 4 cancer patients to, for a night, exchange chemo and cancer for the glitz and glamour of fashion. Samina lends her international platform for survivors to model and Suzanne brings patients to share their stories, creating an empowering night where fashion and philanthropy collide.
Ten stage 4 cancer patients will fulfill a dream of modeling in SMGlobal Catwalk Dallas Revolution Saturday, November 9 at The Frontiers of Flight Museum in Dallas, Texas. The showcase shows that no one is immune from cancer and the models range from a local theater owner, a fireman, an attorney, a hairdresser, an Uber driver and to moms and even a GrandJan! Each survivor has a powerful story and a strong message of hope. Just before these 10 warriors rock the runway, Carla Trout will set the stage with grace and lift the audience with her sweet, beautiful voice singing "Thread of Hope."
International fashion model Can Muhammed Karagoz, who is flying in from New York, will give runway tips before the show and help with the walkthrough so that everyone feels ready. As many of the survivor models are in active treatment, and have even undergone recent surgeries, the assistance up the stairs and a steady shoulder from Can is reassuring. He has had an active role in each of the survivor showcases and is as much a part of the excitement and anticipation as the catwalk itself.
Singer/songwriter and East Texas native, Clay Thrash, will perform during the show and will end with a song that he wrote for Say YES to Hope. After Clay and Suzanne met, she asked him to write a song and gave him just the four words and numerous survivor stories to help him with his creation. He has since performed "Gonna Beat this Thing" at industry events and an official Oscar party. He will close the show with his powerful words.
Everyone is looking forward to the show. Samina Mughal describes the event as "a favorite for attendees" and "a beautiful chance for cancer patients to enjoy a once in a lifetime opportunity." She is honored to be able to give such a memorable opportunity. Information on the "Surviving in Fashion" showcase with Say YES to Hope and SMGlobal Catwalk can be found at SMGlobalCatwalk.com. If you have stage 4 cancer and need a friend for the Journey or support, please contact Suzanne Lindley at 877-937-7478.