All Pro Trailer Superstore Named CAM Superline's Top Trailer Dealer in the Country for 2007
All Pro West Truck & Trailer, just outside of Harrisburg Pennsylvania has been recognized by CAM Superline, Incorporated as its number one Trailer Dealer in the Nation for 2007.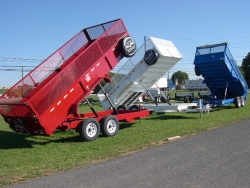 Harrisburg, PA, April 09, 2008 --(
PR.com
)-- All Pro has had nothing but success with the CAM Superline trailer line due to their exceptional quality, heavy duty construction and competitive pricing. "This honor is testimony to the hard work and dedication of every person at our facility," remarks Scott Smith, Director of Sales for All Pro. "Our Company places great emphasis on exceptional product quality and unyielding attention to service detail." Smith continues, "We are grateful to CAM Superline for paying as much attention to these factors as we do."
CAM Superline, located in Waynesboro Pennsylvania specializes in light duty and heavy duty equipment trailers and dump trailers. CAM offers a broad product line of trailers ranging from deck over equipment and dump trailers to full-tilt and split-tilt equipment trailers.
All Pro consistently stocks a variety of CAM Superline trailers for sale in various sizes and weights. CAM trailers are also available in various colors such as Kubota Orange, Ford Blue, CAT Yellow and International Red. "The CAM Superline Kubota Orange and Ford Blue equipment and dump trailers are very impressive," remarks Smith "And certainly make a statement rolling down the road."
All Pro's Trailer Superstore is top of the line and offers the most and best selection of trailers than any other trailer dealer on the East Coast. "We are your one-stop trailer source, we inspect, repair, customize and finance trailers," remarks Smith. "And our trailer sales facility is easily accessible from surrounding states, such as Maryland, Delaware, Virginia, New Jersey and New York."
Consumers in the market for a quality equipment or dump trailer will drive hours to All Pro's Trailer Superstore for their selection. "We have customers who will purchase two CAM Superline trailers at a time," replies Smith. "We stack the trailers together and properly secure them for their trip home," continues Smith. "This saves the customer money and traveling time back to our facility."
Traveler's discounts are offered to consumers traveling to their facility to purchase a new trailer or trailer delivery is available right to your home or business. "Our latest sale of a CAM Superline 20' gooseneck equipment trailer was just delivered to New Jersey," states Smith. "And is being transported over sea's to the Ukraine in Eastern Europe."
To find out more about All Pro West you can visit them online at
http://www.allprowest.com
or call 800-622-7003 for more information on spring pricing or trailer financing on all CAM Superline Equipment and Dump Trailers available at their Trailer Superstore.
###
Contact
All Pro Trailer Superstore
Tammy Smith
800-622-7003
http://www.allprowest.com

Contact