PR.com Interviews Marvel Comics Icon Stan Lee
PR.com Senior Editor, Allison Kugel, interviews legendary comic book icon Stan Lee about his life, his career and his new company POW! Entertainment.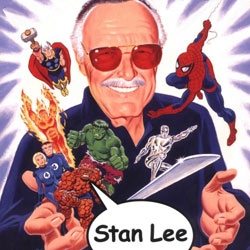 New York, NY, March 17, 2006 --(
PR.com
)-- PR.com is fast becoming known as a journalistic juggernaut with
celebrity and personality interviews
and stories that are in-depth, revealing and offer their readership exclusive content. PR.com's latest interview is with Marvel Comics Icon
Stan Lee
. Stan Lee is the creator of such world famous characters as Spider-Man, The Hulk, The Fantastic Four and X-Men.
Stan Lee has seen his beloved characters go on to gross hundreds of millions of dollars at the box office and evolve into hugely successful movie franchises. Lee now talks to PR.com's Allison Kugel about his decision to establish his own production company, POW! Entertainment. P-O-W! is an acronym for "Purveyors of Wonder," which certainly describes the body of work of Stan Lee. In this humorous and revealing interview, Lee recounts memories from his childhood, his early career with Marvel Comics and the development of some of the world's most beloved comic book characters. He also goes into detail about the new onslaught of television and film projects that POW! Entertainment currently has in development. Adding to the interview are some quotes from POW! Entertainment COO, Gill Champion about the company's decision to bring POW! Entertainment public (Symbol: POWN), and how they plan to build their stock.
POW!'s television and film projects will include such show business powerhouses as: Ringo Starr, Hugh Hefner, Michelle Rodriguez (ABC's Lost), The Sci-fi Channel, Paramount Pictures, and legendary film producer Robert Evans. Stan Lee and POW! Entertainment COO, Gill Champion are also getting into the reality show arena with a series called Who Wants to be a Superhero?, which is slated to air on the Sci-fi Channel later this year.
Some memorable quotes from Stan Lee's interview:
"My publisher said, 'How about dreaming up another superhero?' So I said, 'Okay.' I was sitting at my desk trying to think of one and I saw a fly crawling on a wall, and I said 'Gee, wouldn't it be cool if I could get a hero who could crawl on walls like an insect?' But I think I'm not telling you the truth, because I couldn't have said, 'Wouldn't it be cool,' because that word wasn't in common usage back then. So I probably said, 'Wouldn't it be groovy?'" – On coming up with the character of Spider-Man
"I told him I would do my best to make him famous… It will be an animated DVD starring Ringo Starr. We're going to make him a superhero, but an unusual type of superhero. And he, of course, will do his own voice and he'll do the music." – On teaming up with Ringo Starr to make Ringo into an animated superhero
"See what we're doing is, we're going to tell the world the truth about you, Hefner. Everybody thinks of you as a pleasure seeking, hedonistic, sybaritic type of character. You know, interested in partying and women. But they don't know the real you, Hef." – Stan Lee's tongue-in-cheek explanation on collaborating with Hugh Hefner on a television series called Hef's Super Bunnies
To read the entire interview and article, go to
http://www.pr.com/article/1037
or go to
www.PR.com
and click on "Articles."
About POW! Entertainment Inc.
POW! (Purveyors of Wonder) Entertainment Inc. (Pink Sheets: POWN.PK), an advanced media and entertainment company, was founded by world famous comic book and motion picture icon Stan Lee, together with award winning producer Gill Champion and intellectual property specialist Arthur Lieberman, esq. POW!'s principals have extensive backgrounds in the entertainment industry encompassing the creation, production and licensing of original intellectual properties including some of the most successful entertainment franchises of all time. POW!, capitalizing on this combined expertise specializes in franchises for the entertainment industry, including animation and live-action feature films, plus television. DVDs, video games, merchandising, and related ancillary markets all of which contribute to global expansion. POW! partners with other individuals and entities of entertainment's top echelon including studios and networks in the creation, licensing and distribution of new POW! character franchises. In some cases, POW! creates "custom-tailored" properties for a specific star or director.
About PR.com:
PR.com is a unique website where companies can promote literally everything about their business in a one stop shop business marketplace. A cross between a public relations and advertising entity, PR.com is a
directory of businesses
,
products and services
, a
press release
distribution service,
job search
website, and online publication of articles, reviews and
celebrity interviews
. With a full company profile, each business listed on PR.com has a powerful means by which to generate quality leads as well as gain worldwide and local exposure for all of their products, services and other business information.
Contact
PR.com
516-520-0000
http://www.pr.com

Contact