Snooth Announces International Expansion, Regional Search Capability
Users from over 40 countries now connected with local merchants and price information.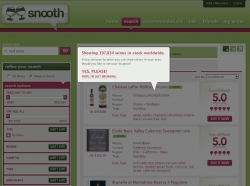 New York, NY, April 16, 2008 --(
PR.com
)-- Snooth (www.snooth.com), the world's most comprehensive wine review site, today announced a substantial international expansion, making the site immediately relevant for wine drinkers worldwide.
Following the complete integration of a worldwide merchant and price database, Snooth now connects users with wineries and wine merchants from over 40 countries thereby allowing wine drinkers to review and price wines featured on Snooth, and purchase wines in their domestic market through local merchants. This new information, provided in partnership with GlobalWineStocks.com, represents price data from 3,000 stores and 5,000 wineries, comprising a total of 2.4 million prices for over 200,000 wines from around the world.
For example, a user can search for "spicy cabernet" and view all wines that match this description. The user can then refine a search by price, vintage, region and other key attributes. Now, for the first time ever, global users can indicate their home country and receive local prices, in local currency, from local merchants, thus facilitating simpler purchases.
"With the integration of this worldwide merchant data, our site will become a powerful tool to a global audience," said Philip James, CEO of Snooth. "Now, a user sitting in the Netherlands, for example, can search through the world's largest collection of wine reviews and access local prices for that perfect bottle, all on the same site."
James added that the data integration represents a significant milestone for the company, building towards the goal of "establishing a truly global wine resource, complete with social elements, detailed recommendations, editorial content, and seamless merchant connections."
About Snooth:
Launched in June 2007, Snooth is a highly interactive, social database of the world's wines, offering both casual and expert wine drinkers the ability to search, obtain personalized recommendations, interact with fellow wine lovers, as well as seamlessly buy from a global network of over 8,000 merchants.
Users have the ability to search by their own personal preferences (bold, peppery, fruity, etc), by a specific meal-pairing, price, or by region or producer. Snooth's recommendation engine also provides customized selections based on stated preferences and user feedback. The more information a user gives on wines they enjoy, the more personalized and detailed the recommendations become.
Please visit www.snooth.com for more information.
About Globalwinestocks:
Since 2005, Global Wine Stocks has aggregated wine prices from various online sources using proprietary technology. Available both as a standalone search engine and as a data license made available to partner sites like Snooth, the company offers millions of wine prices from global merchants, wine labels, and producers.
Please visit www.globalwinestocks.com for more information.
###
Contact
Snooth
Colin Nagy
646-723-4328
www.snooth.com

Contact