Hometown Honey Comes Back to St. Louis
Asheena Marlyse a.k.a "Golden" is casted as the Head Doctor of The Punany Poets stage show. The cast will be performing their hit act "Verbal Penetration" on April 17th at the Moolah Theater.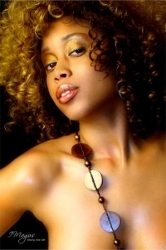 Los Angeles, CA, April 16, 2008 --(
PR.com
)-- Golden takes stage with The Punany Poets Thursday, April 17th at the Moolah Theatre. Doors open at 7PM and the show starts at 8PM. Tickets start at $20 and can be purchased at www.PowerCoupleInc.com and at the Moolah Box office. For more information and tickets call 314-374-4406
Asheena Marlyse a.k.a Golden is a St. Louis native and graduate of Hazelwood Central High School. Golden took an interest in writing poetry from an early age. She honed her writing skills throughout the years by journaling and keeping diaries. Blazing a trail through the Midwest she burst onto the scene as a model and spokesperson, becoming Chicago's 2005 Miller Genuine Draft girl of the year. With a reigning title and new found confidence, Golden's first performance was at a Minneapolis open mic session, where she discovered her love and talent for spoken word performance. Golden soon moved to Las Vegas becoming a well-known talent on the poetry circuit. On her own steam, Golden also gained international fame as one of the most searched pin up models, with her official website www.GoldenLuvTyme.com. Fate, opportunity and timing landed Golden the role of Head Doctor of the Punany Poets show, Verbal Penetration.
The Punany Poets are best known for a feature performance on HBO's late night documentary "Real Sex" but their work has gained accolades among scholars and women all over the globe who recognize their work for its community service and female empowerment programming. Golden's boldness and command of the spoken word made her an obvious protégé' of the legendary writer/poet/activist and Punany founder, Jessica Holter. The Punany Poets founder passes the torch to the recently casted Head Doctor, Golden. Punany Poets uses its platform to address the issues of sexuality and erotica in urban life….as a member of AFACTA.org (a non-profit HIV/AIDS organization that addresses the issues of HIV/AIDS in the urban community through the arts) they will raise funds to create community awareness in a way which reaches those affected the most.
In the tradition of Punany Poets. Golden is planning her one-woman show, Pumps and Paparazzi, which is a cabaret style show encouraging women to take hold of their sexual freedom by being bold and beautiful. The show will send its message through spoken word and dance.
###
Contact
Golden Tyme Enterprises
David Ellis
6124144730

Contact