2008 Dine America Conference Another Success
QSR magazine has announced that the 2008 Dine America conference, held this year in Houston, Texas, was another success.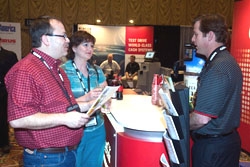 Houston, TX, April 29, 2008 --(
PR.com
)-- QSR® magazine, a publication for executives and operators in the food service industry, announced that the Fifth Annual Dine America Executive Idea Exchange conference was another success. This year's event took place April 6th - 8th at the Hilton Americas-Houston, in downtown Houston, Texas. More than 230 restaurant industry professionals were in attendance.
The 2008 Dine America Keynote speaker was Dr. Jerry Newman, author of My Secret Life on the McJob, and professor at SUNY Buffalo. Dr. Newman presented information about the employment marketplace for restaurant operators from his first-hand experience working in entry level positions at quick-service restaurants.
This is the second year that the state of Texas has played host to the Dine America conference. The 2007 event took place in Austin, Texas.
QSR Magazine is calling the event a great success. "This year was an especially good year to see so many executives from the foodservice industry attend the conference. A few days prior to the show, the media announced that due to March 2008 unemployment numbers the U.S. had officially moved into a economic recession," said Kevin Donaldson, QSR's marketing director and executive director of the Dine America Conference. "We still had a wonderful group of folks attend mainly because the best features of this conference continue to be a small attendee base, involved sponsors, and relevant speakers and sessions."
QSR Magazine has posted a number of video interviews from the conference floor on its website at
http://www.qsrmagazine.com/resources/video/dineamerica
.
Dine America
Dine America takes place annually, bringing together some of the most successful brands in the restaurant business today. Dine America is the place where leaders in the food service industry can exchange ideas and strategies to grow their brands. The conference lasts for three days and included speakers, educational sessions, industry panels, meals, and sponsored parties and events. This year the Dine America conference was hosted in Houston, Texas.
QSR Magazine
QSR and its web site QSRmagazine.com are the leading sources of news and information about the $180+ billion quick-service industry. For more than 10 years, QSR has defined this market, which includes traditional fast food, fast-casual dining, coffee, snacks, full-service takeaway, concessions, convenience stores, and related segments of the foodservice industry. It is the magazine's brand mission to report and analyze current trends in the restaurant industry, work to enhance the positive impact of diversity on this market, and improve the quick-service restaurant industry as a whole.
###
Contact
QSR Magazine
Kevin Donaldson
919-489-1916 ext 138
www.qsrmagazine.com

Contact