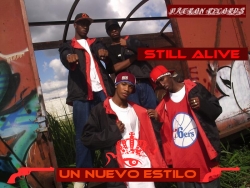 Miami, FL, May 07, 2008 --(
PR.com
)-- Tune in this Wednesday May 7th , 2008 NBC Universal, Telemundo Cada Dia show, 8:00am.
The group called Still Alive debuts in the USA on latin T.V.
Colombian hip-hop, reggaeton group Still Alive will make their first USA appearance on world latin T.V. network telemundo. Group members, Sunday, brother makliky, cousans Rj, and Big – Day, the four will hit the show with a live interview and live performance of the debute single entitled "Lady." "We are overwhelmed with joy" the USA brings us states Sunday, who wrote the smash hit at age 16, "but we are focused to show the world we are ready, and have been for quite sometime." We hail from Cali Colombia and our style is not the same as the rest of the reggaeton sound, we mix our music with hip-hop, and deep base groves, we want people to dance and feel our lyrics. The group enters with huge reviews and gaining spins on USA charts. Signed to Patron Records of Phoenix Arizona, Destiny was at hand… After 10 years of hard work, many obstacles, and sacrifice…Still Alive has perfected their craft and have created "Un Nuevo Estilo" (A New Style). Their name "Still Alive" was written in English over ten years ago in order to have a broader world appeal and was taken from their future dream to one day be on a world stage.
In 2006 Still Alive met up with Abel Romero, CEO of Patrón Records and a long-time DJ veteran/music producer, With only a few resources and a lot of hard work, Still Alive is now closer to that world stage… Still Alive is also heating up myspace with close to 1 million hits. The debute video will also be airing on mundo2, and other latin video programs this summer.
www.mysapce.com/patronrecordsinc
preview the video at
http://www.blastro.com/player/stillaliveladyremix.html
For information and write ups contact Trevino Enterprises via e-mail: reyna@trevinoenterprises.net
###