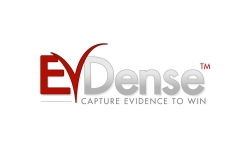 Seattle, WA, May 09, 2008 --(
PR.com
)-- EVDense Corporation, an emerging leader in using technology to empower people, will introduce a new Internet-based service that has been in the works for the past year. The service will help ordinary people be more effective when faced with any type of legal issue.
Today's legal system is complex and changing, and everyone needs to hire an expert – an attorney - to help navigate through and understand it. To have a chance at winning, everyone needs to prepare and give their attorney all available evidence. Facts and evidence are crucial to gaining an advantage on winning the case.
But many people who are caught up in today's legal system believe they are powerless to do anything about it. A few of them turn to the Internet, like Mrs. Trisha Walsh-Smith, to complain. Mrs. Smith's YouTube video on her pending celebrity divorce was viewed over 2.3 million times in a 24 hour period. Whatever her motive - whether it was for public embarrassment, leverage, or having 2.3 million witnesses - there is a better way.
"Simply put, our service will help you easily log and collect, organize and categorize your evidence in a way you can use to help win your case, such as a divorce," say Roger Yee, Founder and Chief Executive of EVDense. By correctly using information technology, ordinary people can finally have the legal system working for them and on their side.
This Summer, try EVDense to collect and store evidence in a secure and tactical way. It's simple and easy to use. And it's time for everyone to take back control of the processes that are taking over their lives.
About EVDense
The EVDense team has decades of experience in the legal technology industry, and is advised by seasoned legal experts. Their service will help anyone "set the proper exposure value so you can see clearly through the multitude or dense amount of information collected."
EVDense Corporation is a privately held Washington corporation, headquartered in Redmond.
For more information:
Media
media@evdense.com
www.evdense.com
###