Principled Technologies Releases Study Comparing Two Enterprise-Level Storage Solutions
Principled Technologies compared the Oracle database I/O load generator performance and monthly costs of a Dell Technologies APEX Data Storage Services solution and an Amazon EBS io2 Block Express Storage solution.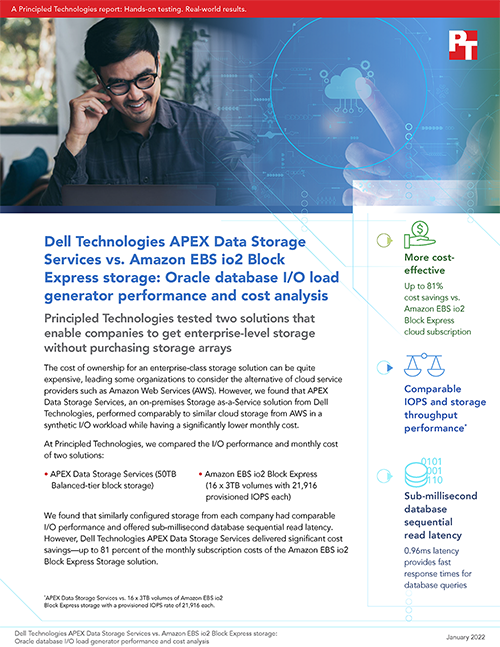 Durham, NC, January 11, 2022 --(
PR.com
)-- Owning a comprehensive enterprise-class storage solution can be a significant investment, leading some companies to instead consider public cloud or storage-as-a-service solutions. Principled Technologies tested two alternatives to purchasing on-premises enterprise-class storage arrays—the on-premises storage-as-a-service Dell Technologies solution APEX Data Storage Services and an Amazon Web Services EBS io2 Block Express storage solution. Principled Technologies also compared the monthly costs of each solution.
According to the report, PT "Found that similarly configured storage from each company had comparable I/O performance and offered sub-millisecond database sequential read latency. However, Dell Technologies APEX Storage Services delivered significant cost savings—up to 81 percent of the monthly subscription costs of the Amazon EBS io2 Block Express Storage solution."
To learn more, read the report at
https://facts.pt/p1UwQdT
, see the infographic at
https://facts.pt/7B4cmVY
, or read the executive summary at
https://facts.pt/JfCHc4t
.
About Principled Technologies, Inc.
Principled Technologies, Inc. is the leading provider of technology marketing and learning & development services.
Principled Technologies, Inc. is located in Durham, North Carolina, USA. For more information, please visit www.principledtechnologies.com.
Contact
Principled Technologies, Inc.
Sharon Horton
828-455-0312
https://www.principledtechnologies.com/

Contact