Testing by Principled Technologies Shows a Dell APEX Private Cloud Solution Offered Faster Overall Application Response Times in a VDI Environment
When PT measured it against a comparable solution from Amazon WorkSpaces, the Dell offering provided 14.9 percent overall faster application response times and a comparable Login Enterprise EUX score.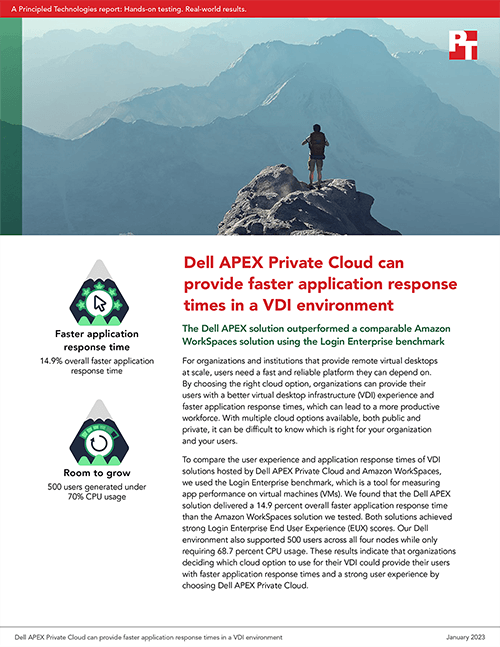 Durham, NC, February 01, 2023 --(
PR.com
)-- Principled Technologies (PT) released a new report and a new infographic that summarize the results of hands-on testing of Dell APEX Private Cloud and Amazon WorkSpaces VDI environments. Using the Login Enterprise benchmark, PT measured the application response times and the End User Experience (EUX) scores of the two solutions.
To compare the overall application response times, PT totaled the average application times for both environments and calculated the difference. The Dell APEX Private Cloud offering had an overall application response time that was 14.9 percent faster than the Amazon WorkSpaces offering. These results indicate that choosing Dell APEX Private Cloud for VDI could boost productivity by saving users time.
According to the report, "the Dell APEX Private Cloud environment achieved a Login Enterprise EUX score of 7.9, which was comparable to the 8.0 score the Amazon WorkSpaces environment achieved."
The Dell environment also "supported 500 users across all four nodes while only requiring 68.7 percent CPU usage."
To learn more, read the report at
https://facts.pt/oX4aL61
and the infographic at
https://facts.pt/HJB8Hjz
.
About Principled Technologies, Inc.
Principled Technologies, Inc. is the leading provider of technology marketing and learning & development services.
Principled Technologies, Inc. is located in Durham, North Carolina, USA. For more information, please visit
www.principledtechnologies.com
.
Contact
Principled Technologies, Inc.
Sharon Horton
828-455-0312
https://www.principledtechnologies.com

Contact