Principled Technologies Sees Significant Time Savings Advantages When Deploying Dell PowerEdge Servers with iDRAC9
Compared to a manual process, the Dell tool saved hours and workdays in 10- and 50-server deployments, respectively.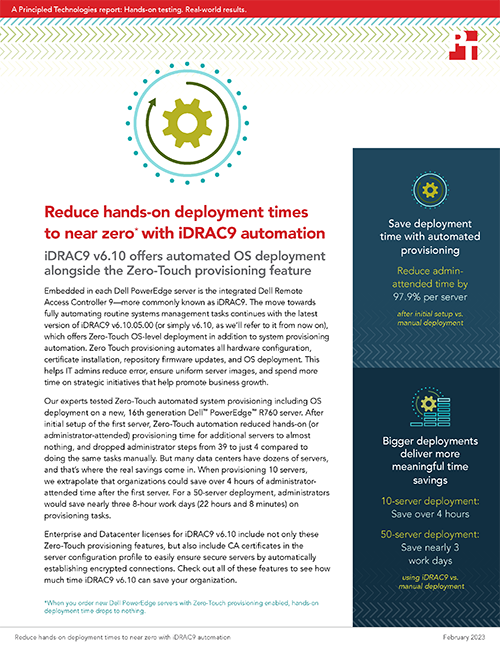 Durham, NC, March 08, 2023 --(
PR.com
)-- New servers can provide a boon to competitive companies but deploying those servers can eat into your IT admins' schedules. Principled Technologies (PT) recently tested manual and automated deployment methods for Dell PowerEdge servers and found that the automated approach with the latest version of iDRAC9 (v6.10) can get new Dell PowerEdge servers production ready faster while reducing the deployment burden on IT.
According to the PT report, "iDRAC9 v6.10 provides administrators with Zero-Touch system provisioning features that include OS deployment, allowing them to automate these routine tasks and reduce the time to deploy servers by 97.9 percent compared to doing the same tasks manually. It also lets administrators avoid the hassle of scheduling, tracking, and maintaining iDRAC9 SSL certificate renewals."
To learn more about the PT testing and results, read the report at
https://facts.pt/COiK7Jf
or the check out the infographic at
https://facts.pt/aKBzvY2
.
About Principled Technologies, Inc.
Principled Technologies, Inc. is the leading provider of technology marketing and learning & development services.
Principled Technologies, Inc. is located in Durham, North Carolina, USA. For more information, please visit
www.principledtechnologies.com
.
Contact
Principled Technologies, Inc.
Sharon Horton
828-455-0312
https://www.principledtechnologies.com

Contact