Ballroom Dancing for the Home Stars
Ballroom Dancing Show, "Dancing with the Stars" makes for fun viewing on TV but it can be intimidating for the average person at home wishing they could dance. Blanche and Emilio Librero offer an easy and convenient solution to becoming a good dancer.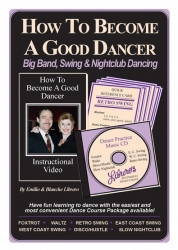 Tampa, FL, May 29, 2008 --(
PR.com
)-- "Dancing with the Stars," the television show that has taken the country by storm, has brought a revival of the elegance and romance of ballroom dancing. More than that, with the participation in the Show of male stars from macho sports like Football, Boxing, and Car Racing, it has made it okay for men to dance.
Dance Studios around the country are busier than ever since people watch the show and get motivated to dance. However, Blanche and Emilio Librero, dance studio owners of "Libreros" in Tampa, Florida, and producers of national best selling video series "How to Become A Good Dancer," found that the majority of their clients wish they had started lessons sooner. Although they were motivated to dance after watching the show, they felt it was beyond their capacity to do so after watching the stars performing elaborate show routines.
Most dancers are interested in a more social style of dancing. For those hesitating about getting started, the Libreros assures them that they too can learn to dance. They also offer an easy approach to learning in the convenience of your own home at:
http://www.BallroomDance101.com
Blanche and Emilio Librero have created a video series that makes the learning process very easy, and provides building blocks for ongoing dance development. Whether you want to learn just to have more fun at parties, become a show performer or a dance competitor, the Libreros collection makes it easy every step of the way. Many of the Libreros video customers are independent teachers around the country who use their videos as a system of teaching and a curriculum they can follow to get excellent results.
The Libreros created two dance video courses for the absolute beginner. Each course covers 7 popular dances:
1) Big Band, Swing & Nightclub Dancing
2) Latin Dancing & Argentine Tango
Their Beginners Series covers three basic steps for each of the 14 dances in the entire Collection. This series is ideal for those who do not dance at all, or who are proficient in a few dances and would like to get an overview of other popular dances.
Each Course comes with a 2 hour Instructional DVD, Practice Music CD, and set of Cue Cards.
The Libreros also created individual instructional DVDs for each of the Dances covered in their Beginner Series: Each video runs approximately 2 hours, and covers 15 patterns divided into three different levels of expertise. (From Basic to Intermediate). The material covered in the DVDs is the equivalent to a Full Bronze Standard in the Medal System as taught in dance studios around the country.
A novice can start with the beginner series and later move on to specific dances they would like to master. They will discover that unlike most studies where you have to wait until you master a skill to enjoy it, you will have a ball as soon as you turn your first DVD on. The process of learning to dance is as much a part of the fun as the finished product of becoming a good dancer.
Learning to dance is a life-transforming experience. It is a doorway to an exciting new life of dancing, fun activities and great friends. Cruises, nightclubs, weddings and special events are always more fun when you know how to dance.
Turn the TV on and this time make viewing an active hobby. Become a good dancer and create your own dancing with the stars at home.
###
Contact
Librero Multimedia Productions
Emilio Librero
813-253-0644
www.BallroomDance101.com

Contact