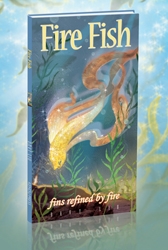 Laguna Beach, CA, May 30, 2008 --(
PR.com
)-- Davy Liu Tells the Story of the Exodus from the Perspective of Three Fish in the 'Fire Fish'
Independent film producer, illustrator and art director, Davy Liu, will release his second children's book, Fire Fish, on June 28, 2008. Inspired by historical events from the book of Exodus, Liu weaves an colorful tale of adventure, struggle and faith that captures the imagination.
Fire Fish follows three little fish, Sarai, RaaOn and Sesom, who embark on a daring quest to find their missing parents. Never more than a fin-flip away from deadly danger, they tumble from one breathtaking exploit to another. Along their journey they encounter helpful friends and deceitful enemies. All the while, the legend of the Fire Fish inspires them to explore a world bigger than they ever imagined.
Leaving the comfort of their home, they find a wise turtle who teaches them how to call upon the great Finmaker. In dark tunnels, an evil eel attempts to lure them into his hungry jaws. After a narrow escape, they find their way to the big ocean, teeming with fish of every kind. They meet new friends and play games until a friendly dolphin warns them of danger. An army of great white sharks is approaching, gnashing everything in its path. In the thrilling climax, the glorious Fire Fish appear, returning the lost parents and saving everyone from the deadly sharks. Meet the characters and learn more at TheFireFish on line.
About Davy Liu
Davy Liu has a passion for imaginative storytelling and beautiful illustration. He worked for Disney on "Beauty and the Beast," "Aladdin," "Mulan," and "The Lion King." A seasoned professional, Liu has also worked for George Lucas and Warner Bros. Animation. His illustrations have graced the pages of Time, The Wall Street Journal and Business Week. Liu imbues his stories with humor, wonder and allegory, making the Fire Fish a tale that appeals to kids and intrigues adults.
"I hope to inspire young souls to experience life through faith," said Liu. "There is more to life than meets the eye. Every kid has different gifts. Though we live in very distracting times, I want kids to know their life is valuable not because of status or material things."
About KenduFilms
Davy Liu started Kendu Films as a unique media company dedicated to producing inspiring stories of faith, which engage the hearts and minds of children and families everywhere. Over the next twelve years, Kendu Films plans to produce all nine books of the Invisible Tails series. Fire Fish is the second book in the series. The first book, The Giant Leaf, was released in July of 2007.
Contact:
Davy Liu
Phone: (949) 716-8877
Email: davy@kendufilms.com
###