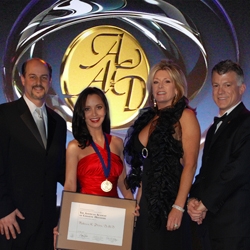 Orlando, FL, June 03, 2008 --(
PR.com
)-- Dr. Rebecca Pitts, of Lake Mary, FL, has achieved Accredited Fellow status in the American Academy of Cosmetic Dentistry (AACD) – joining 44 AACD Accredited Fellow dentists in the world who have earned this prestigious designation since the founding of the organization 24 years ago. Accredited Fellow status marks the highest level of clinical achievement in the AACD. Dr. Rebecca Pitts was recognized in a ceremony at the organization's 24th Annual AACD Scientific Session, held in New Orleans, LA in May 2008.
The AACD is the world's largest non-profit membership organization made up of over 8,000 cosmetic dental professionals. It is dedicated to advancing excellence in comprehensive oral care that combines art and science to optimally improve dental health, aesthetics and function.
Advanced credentialing by the AACD is the most recognized worldwide in the field of cosmetic dentistry.
Dr. Rebecca Pitts practices cosmetic dentistry at 3300 W Lake Mary Blvd Ste 250, Lake Mary in FL. She may be contacted by telephone at 407.688.9990 or via e-mail at rebeccapitts@mac.com. Her practice can be located online at www.drrebeccapitts.com. For more information regarding the AACD, please visit the organization's Web site at www.aacd.com send an e-mail to pr@aacd.com or call 800.543.9220.
Contact: Dr. Rebecca Pitts
3300 W Lake Mary Blvd Ste 250
Lake Mary, FL 32746
Phone: 407.688.9990
Fax: 407.688.9991
E-mail: rebeccapitts@mac.com
Web site: www.drrebeccapitts.com
###